Bhubaneswar: Patkura is no ordinary constituency both in terms of geography and history. Situated to the north east of Cuttack at a distance of around 70 kms it used to be at the heart of Cuttack district before the reorganisation of districts in early 1990s . Now it is under Kendrapara district that extends right upto the Bay of Bengal where a complex river system dominated by Mahanadi meets the sea creating an ecosystem akin to Sunderbans whose dominant identity is giant crocodiles as the other by tigers. Here you see a primordial dance of rivers that split with boring regularity and rejoin down stream only to bifurcate or trifurcate at will every few kilometres running rings around villages, small towns, paddy fields and all kind of settlements known to mankind. Undeterred by the fury of nature through frequent floods, land washes, cyclones or tsunamis, the area has thrown up indomitable people well adept at survival.
Kendrapara is among those rare districts of the country with a sex ratio comfortably in favour of women, a plus 90 percentage of literacy and very high rate of migrants earning livelihood elsewhere. The men are highly skilled (the best plumbers of the country belong to this part) and the women are entrepreneurial.
It would also be one to the political history of Odisha for over the past five decades.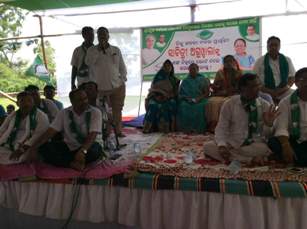 The course of this election seems on the surface a regular face off between the main contestants, Sabitri Agarwal, the widow of the deceased on BJD ticket, and Bijaya Mohapatra, a four times MLA and erstwhile minister in wilderness for over two decades on BJP ticket. It is seemingly meaningless politically as both parties got into an open liaison supporting each other's Rajya Sabha candidates. In any case BJD's overwhelming numbers in the assembly should mark it as a mere routine event. Far from it though as this election is taken to epic heights, at least by the ruling party supremo Naveen Patnaik, where eight ministers and some 28 BJD legislators are camping in the constituency for over a fortnight in the midst of an on going assembly session. And fear of God has been driven into the minds of the campaigners by Naveen babu as nothing sort of a route of the challenger would help them survive.
It is no ordinary election.
It is climatic to a long running political saga where the constituency of Patkura is the stage enacting a drama played by epic Shakespearean characters equivalent morphed into political personae covering five decades of Odisha's political history with Biju Patnaik as the hero, present BJP candidate Bijoy Mohapatra as the villain, and Naveen Patnaik as the anti-hero.

The story begins way back in 1967 when the legendary Biju Patnaik chose to contest this seat of Patkura. Having badly lost his image and political credibility over scandals during the Bhubaneswar Congress Session and the famous student's strike of 1964, he desperately needed to bounce back. But Patkura made him lose to a modest local teacher from Praja Socialist Party, Chakradhar Satapathy, a hammer blow to him politically. Circumstances forced him to leave the Congress subsequently to form his own Utkal Congress Party. However, in the next election held in 1971, he contested from five or six constituencies from all corners of Odisha and astonishingly lost them all! ( truth about Biju's life is hard to retrieve readily as even his Google/Wikipedia profile has been amazingly doctored to remove any adverse fact- you'll not find 1964 Odisha student strike or Piloo Behn murder case on a Google search either!). Patkura loss to a humble teacher that led to his bigger humiliation that followed in 1971 rankled and he was determined to reclaim the turf. Opportunity came within months in the shape of a devastating cyclone that hit the region which was too inaccessible even at normal times. While the government tethered Biju flew in relief and empathy which made him saviour and hero again.
Around that time he also managed to find foot soldiers among students, a force which had swept him off his porch lately. He found and nourished three of them locally and made them his lieutenants for reconquering Odisha politically. Out of these three, Nalini Mahanty served both him and his son till his death lately, Srikanta Jena the perpetual prodigal and drifter left the father and never came near the son in his journeyman politics, but Bijoy Mohapatra, our present BJP candidate, stayed closest to him in Odisha politics only to turn villain later in BJD narrative. As a character worthy of obsessive attention of Naveen, he demands a mighty close look. Thus the orbiting of the three (Biju, Naveen and Bijoy) characters around one another all these years unleashed the epic Shakespearean drama of Odisha politics the denouncement of which is perhaps being played over the current election.

Biju got back his political mojo when he re-emerged as the tallest leader of Odisha in the post Emergency Janata Party. However, those heady days were cut short with the return of Indira Gandhi and Biju got locally upstaged by JB Patnaik, a Political Uriah Heep (He can't really fit into the Shakespearean scheme, so settle for Dickens in stead), who kept Biju away from the Crown for a decade.
Biju, however, returned to Patkura for redemption for the 1980 Assembly poll and succeeded winning both Patkura assembly seat and Kendrapara Lok Sabha seat. Having proven his point he retained Kendrapara Lok Sabha seat and left Patkura magnanimously for none other than his lieutenant and local boy Bijoy Mohapatra. With the blessings of Biju, Bijoy won easily and went on to retain the seat three more times. 
While JB Patnaik ruled Odisha from 1980 to 1989, Biju kept battling him with the help of his three lieutenants. By the time the government of VP Singh came about, Biju had become a national king maker as he moved to Delhi taking Srikanta with him while entrusting Odisha in the hands of Bijoy Mohapatra. By that time JB had slipped and Odisha was waiting to fall on Biju's platter. While Srikanta moved to national pasture and Nalini continued as loyal lieutenant, Bijoy started dreaming big spreading his net far and wide. Back as Odisha CM after 27 years Biju was much battle worn and allowed Bijoy to take control of the government and the party organisation. This is where the Shakespearean parallels kick in when three great tragedies (King Lear, Othello and Macbeth) started running together (Hamlet would take time to come, at least till the end of last century).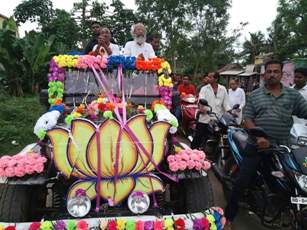 Anticipating the end of the patriarch, Bijoy started his move. While Biju increasingly turned into a King Lear( retaining some feary streaks of Othello), Bijoy turned into a perfect combination of Macbeth and Iago.
When Biju's come back term ended in 1995 and fresh elections were called for, it was a foregone conclusion that the great man will return with a thumping majority. But Bijoy had ambition of his own. Sensing that either Biju would move to Delhi, or may not last the course, he manipulated to stuff the list of candidates with his own loyalists at the expense of winning candidates loyal to Biju prompting break up with the Communists, an alliance which had worked well at the time. The Macbeth in him was too impatient and the Iago in him was too sinister while he placating Biju's Lear with combined charms of Goneril and Regan. The result was disastrous as the party conceded majority to the written off Congress which allowed the master manipulator JB Patnaik to come back through the back door. As if this tragedy was not enough, similar machinations were repeated for the 1996 Lok Sabha elections where Biju got a miserable 3 seats in stead of anything over 17. At least 15 seats would have given him the automatic choice for PM, not the sleepy Deve Gowda. Bijoy Mohapatra was once again the undoing of his leader and the party for his personal ambition. The King Lear in Biju Patnaik hastened his end as he passed away in April 1997, forsaken both in Delhi and Odisha.

With a scandal ridden JB Patnaik in the saddle, Bijoy Mohapatra was counting days for his time to come. His fertile mind hit upon the idea to harness the massive popularity of Biju that was seen at his funeral procession with a sea of people lining all the way from Bhubaneswar to Puri. His shrewd eyes also saw a strange character in the form of Biju's banished son from Odisha, Naveen Patnaik. Observing the public adulation to this life long bohemian from the murky back streets of Lutyens Delhi bearing Biju genes, Bijoy's eyes must have lit up! Naveen's demeanour must have appealed to Bijoy as an easy lamb to slaughter who would simply sit as a totem much the same way Kamraj saw Indira's Gungi Gudiya. Biju Janata Dal was formed with Naveen at the head and Bijoy at the driving seat. But history has a nasty repetitive habit of throwing surprises. Bijoy's Iago was about to have a hypothetical meeting with Naveen's Hamlet( without the natural grace and nobility of the Prince of Denmark). But Hamlet was out to avenge his father and soon found an accomplish in Pyari Mohapatra, the retired Odisha cadre bureaucrat and one time Biju' s secretary, an exceedingly megalomaniac, malevolent, vengeful and ambitious character himself. Bijoy didn't know what's coming.

Come the Assembly election of 2000, Naveen, under the sinister advice of Pyari Mohapatra, bided his time. Tickets were distributed, nominations were filed, Odisha was there for the taking after the disastrous handling of the Super Cyclone by the Congress. Bijoy Mohapatra duly filed his nomination in time and was busy plotting his scheme when Naveen struck. At the last minute the party withdrew Bijoy's nomination as a BJD candidate resulting in the cancellation of his candidature. Bijoy had no time to file a fresh one and found himself in no man's land. Iago realised he is beat, the hunter became the hunted. A forlorn Bijoy supported a dummy candidate who won. The understanding was the dummy would later resign allowing Bijoy to contest the vacant seat. But Pyari saw to it that the dummy decline and Bijoy had no way out, or rather in. He has since lost on all subsequent attempts to get back in to the assembly. He has tried every trick in the game, floating his own party OGP, joining NCP, joining and rejoining BJP and what have you.
He has become like the local rivers, breaking up now and rejoining soon down stream several times out, but has still not found his way to the sea! This is perhaps his last throw of the dice.

But karma has a strange way of catching up. A dying Bed Prakash Agarwala, the sitting legislator, was given ticket by BJD to fight(some say purposely by Naveen to disrupt the election in case of Agarwal's death which actually happened). The rescheduling for May 19 was again disrupted by cyclone Fani. Naveen's gamble paid off, now he has got Bijoy on a stand alone election where undivided attention and energy of the ruling party is being utilised against the Iago. Hamlet, who has himself turned into an Othello(though Desdemona-less he has seen off many associates in the meanwhile including the villainous Pyari Mohapatra), is going in for the kill.
Bijoy Mohapatra has met more than his match.

The electioneering scenes are rather sedate. It's much akin to a friendly match between BJD and BJP. Not much hullabaloo on visuals, the people of Patkura, and entire Odisha too, know that it's more psychological than politico-ideological. The story behind the cover story is the dramatic antipathy between Naveen and Bijoy. A fight between David and Goliath as things stand now. But David here doesn't possess the moral high ground and popular sympathy is more in favour of the Goliath.
Bijoy was a Goliath once but how the mighty falls!
During the Biju Government (1990-1995), Bijoy was the de facto CM lording over every thing he surveyed. But now he is a nobody in his own constituency. The new generation that has come along neither know him much nor do they care. The ones who know him remember his heady days when he was a supercilious giant keeping his nose high in the air. One elderly voter told 'Bijoy babu always used to cast his eyes above anyone's face line, never looked to the ground during his days in power'. When the entire State was at his command he did very little for the area. That has taken away the sympathy factors from the voters. No one cares that he has been done in by Naveen and Pyari all these years. Whatever vote he would poll is ironically on Modi and BJP factors.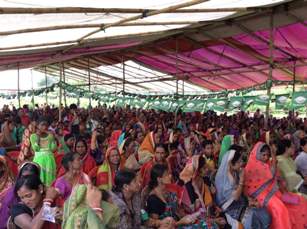 The dominating number of women in the area have minds of their own. They are overwhelmingly in favour of Naveen. Road side gossips tell you that women get rupees 2000 for themselves while 5000 is for small women societies that abound in the area.
Once the rice bowl of Odisha, paddy farming has declined beyond recognition for many reasons, prime one being the terminal neglect of the historical canal system that was built by the British after the great Odisha famine of 1860s.
Bijoy Mohapatra ironically was the Irrigation Minister in his last stint in power. People do not forget these things easily. A life long practitioner of schadenfreude, Bijoy babu is getting it back with interest from his people. The women are mostly voting for Navin as ladies only meetings are rampant ( photo). The men are more inclined towards BJP though the reason is Modi, not Bijoy. The Party itself doesn't seem much enthused as Bijoy winning will create more problems for the BJP and solve none.

The men left behind in Patkura do not cultivate their field with sincerity anymore as cash and subsidised rice among other things are supplied by the State efficiently. Even the danger of flood has almost vanished with all the water from Mahanadi system is taken out by Chhattisgarh and little that trickle into Odisha is soaked in by the Western Odisha industry and agriculture which has become the new rice bowl of Odisha. People have plenty of free time for intense politicking West Bengal style (minus the rampant violence) where families are split every which way in their political choices.
But the story is known to everybody and it is quite a compelling story at that. The only ones who are anxious are those BJD ministers and MLAs slaving it out in Patkura as they are mere employees of the BJD Corporation and the CMD Naveen babu would certainly throw them out if Bijoy Mohapatra is not politically slayed.
By Trilokya Jena
(A freelance columnist)