Bhubaneswar: XIMB's operation committee X-Ops organized its flagship event and annual business conclave, 'Ashwamedh 2019', here on Sunday. The theme of discussion was 'Driving Global Supply Chain Management through Innovation'.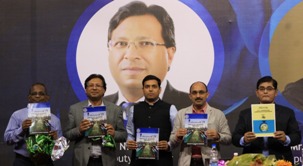 The goal of the conclave was to gain perspective on how the business world is evolving and how supply chain management is changing to adapt to Industry 4.0.
Sunil Bharadwaj, (DGM-Strategy and Supply Chain Management – Lifestyle Business-Central Functions, Raymond Ltd), Satpal Singh (Country Head, Supply Chain & Business Transformation, Legrand) and Nikhil Kush,Deputy Director, Supply Chain Program, PATH were the speakers for the occasion. Bikram Kumar Bahinipati (Professor, Operations Management, Supply Chain Management, Service Operations Management) was the moderator for the event.
Sunil Bharadwaj spoke about the need for a self-sustaining model of supply chain management, and also the need to implement the principles of design thinking and change management in the workplace. According to him, these principles were paramount to the success of innovation, and flexibility of process. He said, "Supply Chain Management is about visibility, velocity, and variability".
Satpal Singh talked about how innovation in Supply Chain Management should not be just for the sake of innovation. There should be both incremental, as well as disruptive innovation to help navigate the rapidly changing consumer needs. He also stated that the focal point of Supply Chain is to take care of the customer, and that Supply Chain Management has become even more crucial in this day and age. His advice to companies was that they must self-disrupt, so that others cannot do the same to them. He was very interactive with the audience, giving them a case study to work on, to help them get a better sense of the stakes involved in Supply Chain Management. Dwelling on the theme he said, "Supply Chain Management cannot afford not to go smart".
Nikhil Kush suggested that Supply Chain Management is too narrow a term, and that we should look at Value Chain Management as an overarching concept. He also spoke about the need for Supply Chain sustainability, especially in the area of public health, since that was his area of work. As the only panel member from the public sector, he differentiated between Supply Chain Management in the private and public sector. He stated that, "The goal of Supply Chain in the public sector is maximum coverage – to move from curative to preventive solutions". He said that there is a need for transformation in Supply Chain Management so as to bring more efficiency in the public sector
The panel session was followed by a Q&A session where the students asked insightful and inquisitive questions. The annual magazine of X-Ops, 'Ashwamedh' was also launched by the invited dignitaries present on the stage. Ankita Rath, the Student Coordinator of X-Ops proposed the vote of thanks to everyone present in the business conclave.