Bhubaneswar: After getting the GI tag for Rasagola, the state is now eyeing to grab GI tag for Nayagarh Chennapoda.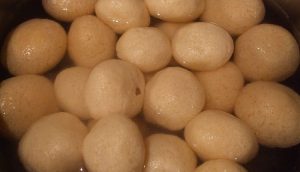 India Whispers overheard that the state government is contemplating to file for GI registration for its Nayagarh Chennapoda. The state science and technology department is soon going to document the process of the Chennapoda making and its history and culture with a view to file for the GI registration.
The Odisha Rasagoal has been accorded the Geographical Indications (GI) tag certificate which will be valid till Feb 22, 2028.
Odisha had moved the GI Registry after West Bengal was awarded the GI tag for its Banglara Rasagulla in 2017. The State had had submitted various documents sought by the GI registry office like the chemical composition, moisture and nutrient contents of the sweet and the general practices adopted during the production process along with its quality and hygiene standards at various stages of production.