Bhubaneswar: Ahamiya literature Laxinath Bezbaruah's house in Sambalpur city of Odisha would be converted into a heritage memorial.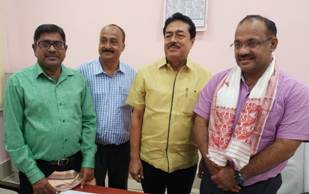 The house, which is now in a dilapidated condition would be restored with the Rs 50 lakh provided by Assam government. It was in 2017, the chief minister has directed the Intach to take up the conservation work of the house. Following a meeting by the Assam culture minister in 2017, the chief minister had provided Rs 50 lakh and asked the Intach to restore the house without tempering with its originality.
Three members of Bezbaruah Memorial Committee Thursday met the State culture minister Jyotiprakash Panigrahi and discussed about the restoration and preservation of the great literary persons house in Sambalpur city.
The tourism secretary, Vishal Dev and tourism director Nirmal Chandra Mishra were present in the Thursday meeting.
Bezbaruah, who had his career in Sambalpur city in the pre-independence ear, had completed most of his creative writings from this house in Odisha.