Bhubaneswar: Mercatique, the annual business conclave of MAXIM, the Marketing Association of XIMB, was held here on Sunday. The theme of the discussion was "Enhancing Customer Engagement through Experiential Marketing ". The conclave aimed to throw light on consumer-driven marketing strategies and the subsequent enhancements in customer engagement.
The Head- Marketing and PR ( India ), Harley-Davidson Motor Company, ImranQadri, Chief Marketing Officer, Aditya Birla Capital Health Insurance, Darshana Shah, and Chief Marketing Officer and Consumer Business Head, Acer, Chandrahas Panigrahi, were the esteemed speakers of the occasion. Professor of Marketing, XIMB Sandip Anand, , served as the moderator for the discussion.
Imran Qadri said that concept of experiential marketing for different segments and the tools and techniques should be used for existing customers. "Existing customers have to be engaged through community-driven marketing ", he said. Taking Harley-Davidson India's marketing practices as an example, he emphasised on the role of micro-influencers as well as the usage of existing resources for improving the employee and consumer correlations.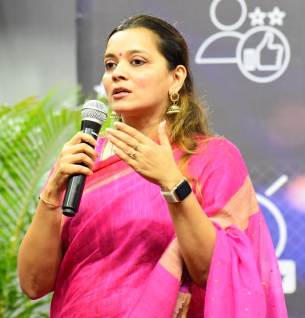 Darshana Shah talked about consumer engagement marketing in the health sector, and how customers can "buy and engage, not buy and forget". She said, "Consumers of this era wish to be empowered and act as co-creators, hence if we think of experiential marketing we ought to be relevant to what the consumer is consuming." She stated how Aditya Birla Health Insurance was more about 'assurance than insurance', and concluded the talk after citing examples from the recent marketing drives of her organization and the success of the same by mass participation of customers.
Chandrahas Panigrahi emphasised on engaging potential consumers, and the role of experiential marketing in creating a good memory which is crucial for amplifying satisfaction and loyalty. He elaborated on the finer aspects of offline and online experiential marketing and how both aid in giving an experience to the consumer, not just a mere product.
MaxEdge, the annual magazine of MAXIM was released on this occasion. The eminent speakers felicitated the winners of 'Pitch Please', an annual event which is organized by MAXIM to identify the budding entrepreneurs with avant-garde ideas. Gaurav Singh, the student coordinator of MAXIM delivered the vote of thanks to all the dignitaries and concluded the event.