Bhubaneswar: Odisha governor Professor Ganeshi Lal inaugurated the National Conference of Poets, organised by Rastriya Kabi Sangam, here at Raj Bhawan on Tuesday. Over 62 poets from across the country participated in the conference and recited their poems on nationalism.
Addressing the conference, the governor said that India is a land of emotions, melodies and rhythms. It is a land where worship of Satyam, Shivam, Sundarm is a rich tradition. Poets are highly revered here as words are worshiped as supreme soul. He called upon the poets to show the path to the present time by making true reflection of the Bharatiyata through their creativity.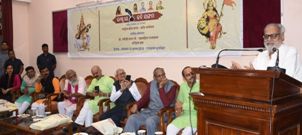 Speaking on the occasion, national president of Rastriya Kabi Sangam Jagadish Mittal, national general secretary Mahesh Sharma, Banabandhu Parisad chairman Ajaya Agarwal, Udaya India editor Deepak Rath and Odisha Open University registrar JK Sharma urged the poets to write keeping in mind the challenges and necessities of the present time.
Madhav Pandey 'Nirmal', Vijaya Rathore, Debendra Parihar, Madhukhyara Choube, Kamal Sharma, Sakhigopal Panda, Baba Satyanarayan, Gyana Hota and Rakhak Nayak are among the eminent poets who recited their poems at the conference.