Bhubaneswar: Four sub-committees of the Odisha assembly would formed for the four power distribution companies (Discoms) of the State. The sub-committee will submit its report to the assembly after reviewing the functioning of the the Discoms.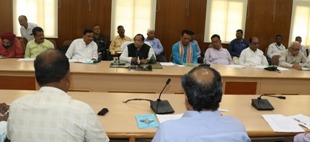 The assembly speaker, Surya Narayan Patro, Monday directed the state energy department to take steps to improve the power generation, transmission and distribution in the State. He also advised the department to take measures to reduce the transmission and distribution losses.
The House Committee on Energy met under the chairmanship of speaker, here on Monday. The energy secretary, Hemanta Sharma, presented a report on the activities of the department.
Leader of the opposition Pradipta Kumar Nayak, food supply & consumer welfare minister Ranendra Pratap Swain, steel & mines minister Prafulla Kumar Mallick, energy minister Dibya Shankar Mishra, BJP chief whip Mohan Charan Majhi, MLAs Narasingha Mishra, Pradip Maharathi, Ananta Das, Nrusha Charan Sahu, Amar Prasad Satpathy, Santosh Singh Sajula, Subash Chandra Panigrahi, Prasanta Kumar Muduli, Sukanta Kumar Nayak, Byomakesh Ray and Srikanta Sahu besides assembly secretary Dasarathi Satapathy attended the meeting.