Bhubaneswar: International famed sprinter Dutee Chand is planning to file a defamation suit against Odia cine comedian Papu Pom Pom alias Tatwa Prakash Satapathy.
In audio, currently in circulation in social media, Dutee Chand has been targeted by the comedian for her remarks about the film poster featuring Pom Pom.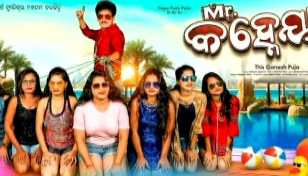 Dutee has been severely criticized by Papu in the audio. Chand's same sex relationship and her bitter relationship with her family members have been raised by the comedian in the audio.
Dutee said she will file a defamation suit against the comedian soon. Alleging that a few persons are calling her up on behalf of the actor for the last four to five days and threatening her of dire consequence, she said she will file a complain with the police station.
Responding to the comedian's audio, which is circulating in the social media, statement Dutee has said, " I am deeply hurt by Papu Bhai's comments on my personal life. I had just opposed the concept of the poster which depicts that women are slaves to men. I did not take anyone's name and urged the production house to remove it. But the actor took it personally and got vindictive."
"..It is my personal choice whom should I marry. When I have not commented anything on the actor's personal life, he should not be interfering in my private matter. He commented about my financial background also. What I am today is because of my hardwork and dedication,"she added.
Pom Pom, in the audio, has allegedly said, "Dutee Chand should better not talk about women's dignity. She should mind her own business and handle the controversies surrounding her same sex relationship. She is going against the culture of the state. Dutee should not talk about women's self-respect when she is complaining about her own mother and sister in public," the actor said in the audio.
Meanwhile, the Bhubaneswar Mahila Police has served a notice on the film producer Sitaram Agarwal following a complaint lodged by social activist Linkan Subudhi on August 18.