Bhubaneswar: The Nabrangpur district collector, Dr. Ajit Kumar Mishra, Wednesday visted the Eco-villages developed by NGO Agragamee in the Tentulikhunti block of the district. The collector trekked over 3 km to reach the Uppergodigoan and Kandraguda Eco-villages and interacted with the tribal villagers.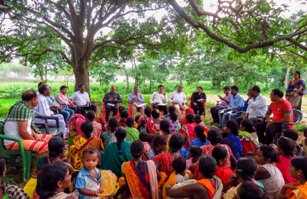 Mishra assured that the Kandraguda village would adopted by the district administration for development as a selft-sufficient Eco-village.
India Whispers news about the Agragamee patronising 11 villages in Tentulikhunti block of Nabarangpur district as Eco-village, in fact, drew the attention of the collector and inspired him to visit the villages personally.

The district collector who visited the villages with his district level officers took a look at the GO-NGO(government & NGO) collaboration and had instructed to take up various NRM, Livelihood and Social Security programmes to make these villages as truly Eco-villages which would be examples in the area.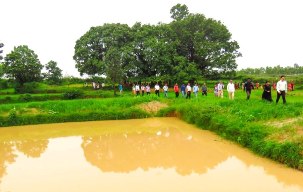 Agragamee founder Achyut Das said, " A message has been given to one and all in Nabarangapur District that the collector Dr. Mishra believes in communicating directly with the villagers in the field and taking decisions on the spot for the tangible development. A collaborative framework among all stakeholders- Community, PRIs, the Government and the NGO- has been established. This exercise can be extended to many villages of the district. "
Das said , "Our Eco-villages have basically two pillars – Family Farm for each Household and Development of Commons managed by Women."
With the intervention of Agragamee, the tribal villagers of 11 villages in the block have undertaken traditional Ragi cultivation shunning the commercial maize farming realizing that the mono-culture of maize has destroyed their soil health and the environment.