Bhubaneswar:Aswatha Narayana has made Odisha proud by winning the first ever gold medal for India at World Skills competition held in Kazan, Russia on Tuesday. He was part of the 48 member team representing India at the 45th World Skills competition held in Russia.
The team participated in 44 skills.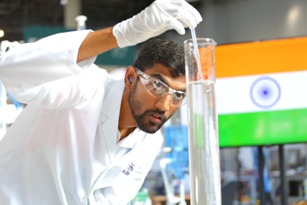 Aswatha, a student of the C. V. Raman College of Engineering, bagged the gold
in water technology. His interest in the field of Industrial automation had driven him
to choose this skill. He says, "Since water is the world's most critical resource, the importance of this occupation and quality of those fulfilling it, is second to none."

India has won 4 medals, one gold in Water Technology, one silver in Web
Technology and two bronze medals in Jewellery and Graphic Design Technology.

India also got medal of excellence at World Skills in IT software solutions for business, welding, wall and floor tiling, autobody repair, car painting, auto mobile technology, bricklaying, mobile robotics, patisserie and confectionary, health and social care, visual merchandising, bakery, 3D game art, cyber security and mechatronics.

India is among 63 countries participating in the world's biggest international vocational skill competition, World Skills Kazan 2019.
Odisha chief minister Naveen Patnaik congratulated Aswatha on his stellar performance and thanked him for making the State proud. Chairman, Odisha Skill Development Authority Subroto Bagchi has thanked all institutions behind Odisha's success and asked for greater success of World Skill Competition for 2021 to be held in Sanghai.