New Delhi: The Steel Authority of India Ltd. (SAIL) chairman, Anil Kumar Chaudhary, Friday said that the Central sector steel behemoth has made a turnaround in fiscal 2018-19.
" The financial year 2018-19 has been a turnaround year for the Company", the chairman said while addressing the shareholders of SAIL on Company's 47thAnnual General Meeting held here. He declared a dividend of 5% for the financial year 2018-19.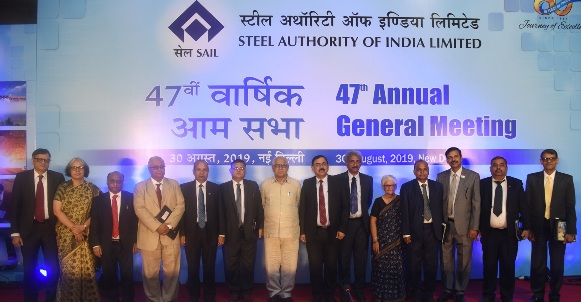 He said that "SAIL earned a Profit after Tax (PAT) on standalone basis at Rs 2,179 crore in FY'19 as against loss of Rs 482 Crore in the previous year FY'18. On consolidated basis, the Profit after Tax stood at Rs 2,349 Crore for FY'19 as against loss of Rs 281 Crore in FY'18.
"The change in fortune has been a result of determined efforts and strategic initiatives taken by the Company which helped to improve the EBITDA in FY'19 to Rs 10,283 crore, almost double of the performance of Rs 5,184 crore in FY'18."
The Company's improvement in financial performance was based upon the improvement in operational areas. Some of the highlights :
Increase in Saleable Steel production (7%)
Growth in sales turnover at Rs. 66,267 Crore, 16%over the previous year
Improvement in operational efficiencies resulting from higher production through concast route which grew by 8% over FY18
Improved product-mix
Reduction in Coke Rate (which improved 3% in H2 over H1 of FY19)
SAIL, especially during H2 FY'19, took various initiatives which led to increase in production of Hot Metal, Crude Steel and Saleable Steel. It increased by 12%, 13% and 10% respectively during H2 over H1. During this period, production of UTS-90 Rails grew by 35% with Long Rails production increasing by 28% over first half.
Chaudhary also said that "SAIL has associated itself with every major national infrastructure project of the country in the areas of defence, railways, infrastructure, space, power, manufacturing. The Company supplied steel to projects including Statue of Unity (tallest statue in the World), Bogibeel Bridge (longest rail-cum-road bridge in India), Kishanganga and Tuirial Hydro Projects, Eastern and Western Peripheral Expresswaysin FY'19 giving a fillip to India's growth story under the ambit of National Steel Policy 2017 as well as 'Make in India' movement."
He further added that, "During FY19 SAIL produced new grades of steel like Quenched & Tempered Plates (SAIL WR 400, ASTM 517 F, S690 QL), High Tensile Parallel Flanged Beams, Medium Carbon Wire Rods (HC 52B,SAE 15B21)." SAIL also supplied steel for various defence projects including indigenously built Anti-Submarine Warfare (ASW), Stealth Corvette INS-Kiltan and the first indigenous artillery gun 'Dhanush' of the Indian Army.