Bhubaneswar, Sept 2: The Centre is planning to promote about 500 coconut-based industries in the country by 2022. There are about 484 coconut based industries have been set up across the country with the support of government of India.
"We are on a mission to double the number of coconut-based industries by 2022", said the union agriculture minster Narendra Singh Tomar. "We want more and more educated farmers to come with start-ups and grow in the country", he added.
The union minister was addressing the 21st World Coconut Day, observed by the Coconut Development Board (CDB), here at the KIIT auditorium on Monday.

Narendra Singh Tomar assured additional assistance to the cyclone Fani devastated farmers of Odisha apart from the support of Rs 29.659 crores by CDB.
"We are pretty much aware about the plight of the coconut farmers in the state. We are eager to extend more help to them. The state government should follow the due process so that we can grant more funds by CDB and the agriculture ministry," Tomar assured.
More than one crore farmers of the country are engaged in coconut farming and it comprises of the 33% total coconut farming in the world, he said adding that the government is committed to give more attention to the coconut farmers in the country.
"Government of India has decided to open 10,000 FPO across the country", the union minister said adding, " CDB is also playing a great role for skill development of the farmers."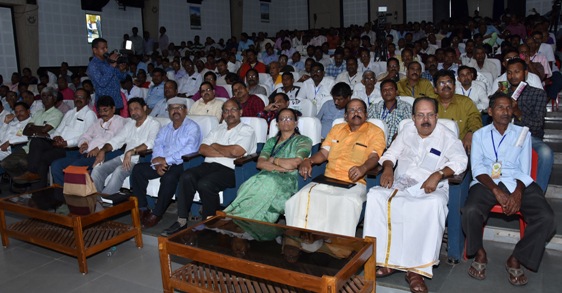 Around 500 farmers from all coconut growing states across the country and coconut based entrepreneurs participated in the programme. The technical session handled by subject matter specialists focused on creating awareness on the goodness of coconut and also for equipping the farmers with latest and up to date scientific practices of coconut management, processing, value addition and export. An exhibition showcasing various innovative value added products of coconut and latest technologies in coconut sector was also held. Four leaflets of CDB were inaugurated by Tomar on this occasion.
The Odisha agriculture minister, Arun Kumar Sahoo, said that the coconut farmers are affected by  frequent natural calamities for  the last few years.  He emphasised that special care to be taken to resolve their  heavy loss. According to him around four lakh palms are devasted by these calamities. He called upon the farmers to ensure that  their crops  are  covered under crop  insurance. 
Bhubaneswar North MLA Susant Kumar Rout, union agriculture secretary Sanjay Agarwal, Odisha agriculture principal secretary Saurabh Garg and CDB chairperson V Usha Rani also spoke on the occasion.