Bhubaneswar: The Invest Odisha delegation led by State industries and MSME minister, Dibya Sankar Mishra, has negotiated potential investors in Guangzhou in China.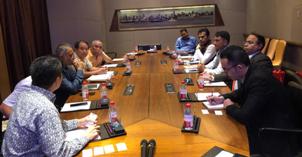 Nine Dragon Paper(Holdings) Ltd. of Donguang near Guangzhou has has shown interest in investing in Odisha. The delegation visited the facilities of Nine Dragon Paper in China on Thursday.
Odisha organised a roadshow which was attended by Chinese industries captains and executives . The bilateral talk between the Odisha delegates and the Chinese industries representatives was facilitated by the Indian Consulate in Guangzhou under the leadership of Sujit Ghosh.
Stating that Odisha is the most industries ready State in India, the minister said a delegation of Chinese industrialist should visit the State and explore the possibility of establishing investment links for which the state of Odisha is committed to give the best of facilitation and services.
Ipicol MD Nitin Jawale gave a presentation on investment climate and opportunities in Odisha. He also answered the queries raised by Chinese companies in the interaction session.
The event was followed by one to one meeting with members of China Association of Small and Medium Enterprises (CASME) about bringing industries and supply chains in different sectors in Odisha and some others including, Phenix Battery Company a manufacturer of mobile phone batteries.