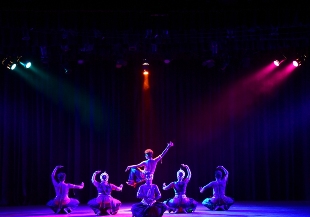 Bhubaneswar : Renowned Sarod player Debasmita Bhattacharya, Odissi
danseuse Ileana Chitaristi and Nupur Dance Academy kept the audience of 25th OMC GKCM Award Festival's fifth evening, here on Monday.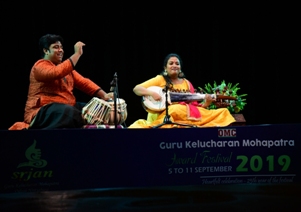 The evening was opened by Debasmita with her soothing Sarod recital. She was accompanied by flamboyant Tabla player Sandip Ghosh. She presented Raag Durga, an seasonal raag based on Sharad Ritu. Debasmita's recital created a mellifluous ambiance which perfectly portrayed the Raag. Beginning with a short alaap, the composition was a beautiful amalgam of three sections, beginning with Vilambit Teen Taal in sixteen beats, moving on to Ek Taal, and concluding with a composition in Dhrut. Interwoven with a beautiful bandish celebrating the oncoming of Durga Puja, Jaya Durge Ma. Presenting pieces composed by the legendary Sarod exponent, Pandit Buddhadev Dasgupta, Debasmita Bhattacharya's immense versatility enabled her to explore a variety musical nuances, emphasizing her very own individual creative expression, while Sandip Ghosh rendered dynamic and effortless Tabla accompaniment note for note.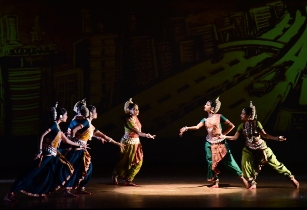 The instrumental music event was followed by the group presentation by Nupur Dance Academy, under the mentorship of Niranjan Rout. The Nupur troupe presented Khamaj Pallavi, a pure dance, and Shiva Stotram, an Abhinaya. Both the presentations have been composed by Niranjan Rout, set to the music composition of K. Ramarao Patra and the rhythm composition of Dhaneswar Swain. Set to Raag Khamaj and Triputa Taal, the dancers presented this Pallavi with neat and crisp movements. The troupe made an energetic performance in Abhinaya– Shiva Stotram, celebrating the cosmic dance of Lord Shiva, the Tandava, praising the lord and seeking salvation from him through the power of dance.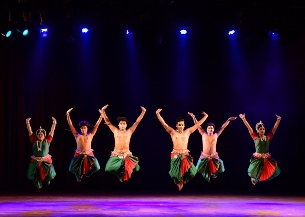 Art Vision of Dr. Ileana Citaristi presented the production 'Akshara -A Dalliance with the Odia Alphabet'. Akshara is a poetic composition which captures dancing with the Odia alphabet in a mood of gaiety, both as dalliance and also as homage to this rich and ancient language. Beginning with the rituals of commencement of writing in any Odia village by drawing three circles on the dry mud with lime sticks, these initial shapes and shadows of roundness were shown to denote the genesis of the Odia alphabet. Scripted and conceptualised by Devdas Chhotray, and set to the melodious musical composition of Lakshmi Kant Palit, the dance choreography by Dr. Ileana Citarist, the presentation features special sand animation by international famed sand artist Sudarshan Pattnaik. The dancers presented this novel concept with neat footwork and commendable stage presence.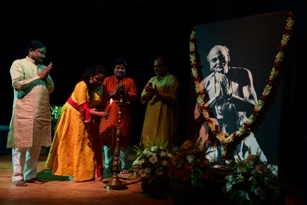 Eminent Odissi vocalist Guru Ramahari Das, Debasmita Bhattacharya and Srjan director Ratikanta Mohapatra graced the occasion.
The penultimate evening of the Award Festival on September 10 will witness a special evening of Odissi Music by Bijay Kumar Jena and other eminent msuicians of Odisha. This will be followed by group presentations by two dance institutes -Nrutyashala, led by Ashok Ghosal, and Nrutyayan, led by Durga Charan Ranbir.