The recertification audit was conducted at RSP lead auditor Ayon Nag,CPR auditor Manoj Kumar Panchal and Syed Qasim Ali of Messers DNVGL.
In his address in the concluding meeting, Gautam Banerjee reiterated RSP's continued commitment towards fulfilling the requirements of the Construction Products Regulation (CPR) 305, 2011 and the EN 10025 specifications while dispatching CE marked plates to the European Union. Ashish Chakravorty, GM (Quality) coordinated the programme.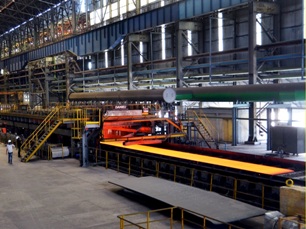 It is noteworthy that, CE marking is mandatory to place any product legally in European market. The new Plate Mill of RSP had got the approval for DNV-GL Business Assurance to produce CE Mark Plates in November, 2016. The first consignment of CE marked plates produced from the new Plate Mill was dispatched to the European market in January 2017. With the recertification, the Mill which is equipped with the cutting edge technology, will continue to cater to the overseas orders from the niche European market.