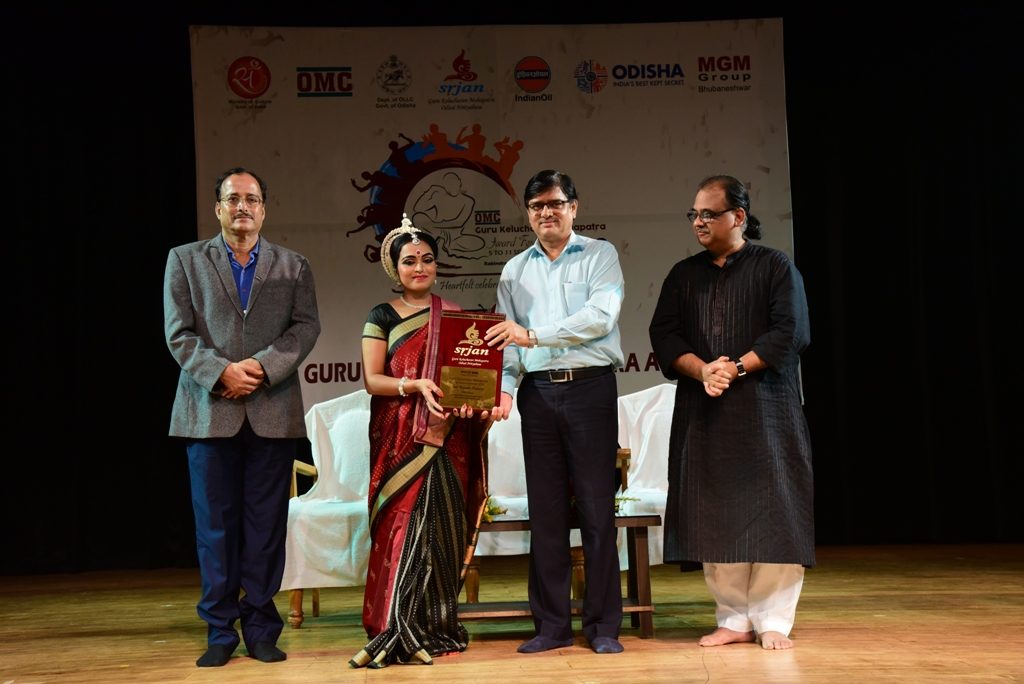 Bhubaneswar: Curtain downed on the seven day 25th OMC Guru Kelucharan Mohapatra Award 2019 festival, here on Wednesday, with presentation of Nalco Award and Odissi Abhinaya 'Namami Gange'.
The evening was graced by the former member board of revenue Ashok Kumar Tripathy, principal secretary culture Manoranjan Panigrahi and Srjan director Ratikanta Mohapatra.
The Nalco Guru Kelucharan Mohapatra Award 2019, which comprises a cash prize of Rs 1 lakh each and a citation, was presented to table maestro Guru Harmohan Khuntia, Odissi dance Guru Durga Charan Ranbir, art photographer Avinash Pasricha, art critic Dr. Sunil Kothari and dance critic and authoress Leela Venkataraman, for their lifetime achievements and contribution to the performing arts.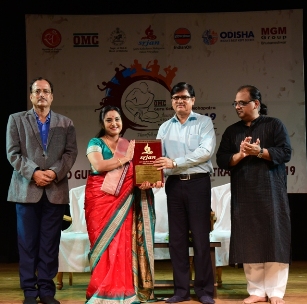 The Nalco Guru Kelucharan Mohapatra Yuva Prativa Samman, was given to five exceptionally talented performing artistes under the age of 40 years in the field of classical dance & Odissi music to acknowledge their outstanding performances. The Nalco NALCO Guru Kelucharan Mohapatra Yuva Prativa Samman 2019, which comprises a cash prize of Rs. 25,000/- each and a citation, was presented to Swapnokalpa Dasgupta (Odissi Dance), Rahul Acharya (Odissi Dance), Rajashri Praharaj (Odissi Dance), Anwesa Mahanta (Sattriya Dance), and Satyabrata Katha (Odissi Music).
The seven day festival concluded with the Srjan dance ensemble presented 'Namami Gange', an Ode to Mother Ganga, choreographed by Guru Ratikant Mohapatra, scripted by Pandit Nityananda Mishra, and set to Lakshmikant Palit's music. 'Namami Gange' is the story of the descent of mother Ganga from the locks of Lord Shiva. Beginning with an invocation to Ganga, the story of the river starts with the Ashwamedha Yagna of King Sagara. It moves on to cover its journey from the Himalayan peaks, through the hills of Gomukh, travelling across the Gangetic plains, and finally into the Bay of Bengal. Celebrated in history and legend, the mighty Ganga, once the harbinger of life, is now a cauldron of desecration and death.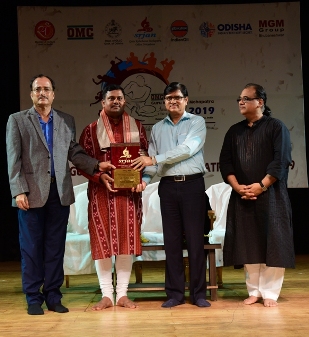 The presentation appeals to the audience and the people of India, to wake up now, stop this plundering of mother Ganga's sacred waters, bring her back to her former glory and enable her to flow tirelessly, unceasingly, eternally, forever smiling, forever nurtured by our own kindness.
Bearing a strong social and environmental message, 'Namami Gange',is a production in the neo-classical style of Odissi, woven into a highly aesthetic artistic tapestry with intricate choreography, music, and appealing light designing.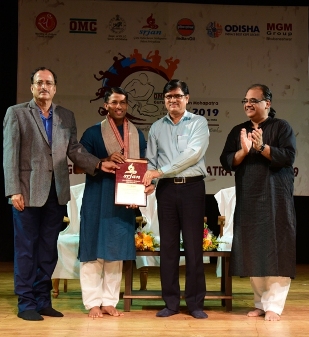 Presented by the dancers of Srjan, Rajashri Praharaj, Ritu Sengupta, Pragna Parimita Das, Aishwariya Singhdev, Sipra Swain, Preetisha Mohapatra, Reebdhita Barua, and Maya Krishnamurty, this dance was performed energetically and with near perfect synchronisation. Aided by the brilliant light designing of Debi Prasad Mishra, the eight dancers seamlessly transitioned through the attractive formations, using their bodies as props, while doing justice to this topical and important issue of the destruction of mother Ganga. This neoclassical choreography was interspersed with beautiful traditional and novel movements, and the steps brought the nuances of this intricate piece to life, engaging the audience's attention throughout. Namami Gange was indeed a befitting conclusion to this grand, yet heartfelt celebration of 25 years of dedicated service to the mission of the Indian classical arts.