Bhubaneswar: Xavier Institute of Management, Bhubaneswar(XIMB)'s Business Excellence Summit 2019 emphasised on harvesting radically new ideas that are practical and sustainable.
The Day 2 of the second edition of Summit on Satruday began with a panel discussion on the theme 'Invest. Innovate & Integrate'.
Co-Founder & CEO, CDS Development Centre LLP Sourav Mohanty, , Co-Founder, BiziBean Aharnish Mishra, Co-Founder & CEO, Sequoia Fitness & Sports Technology Sujit Panigrahi, and General Manager – Eastern India and Overseas, Lenovo, Naveen Kejriwal served as panelists for the session. Moderator of the discussion Prof. DV Ramana set the tone by asking whether innovation could bridge the gap between rich and poor and reduce educational inequality.
Naveen Kejriwal said it is important to consider if the ideas are radically new when it is practical and sustainable. He also emphasized the significance of creating core groups that must involve field people as well.
Sujit Panigrahi furthered the discussion stating that intellectual property rights need to be ensured before working on innovative ideas. He talked about building cohesive innovation architecture and agility. Panigrahi also elucidated the importance of investing in human capital, collaborations and relationships.
Aharnish Mishra advanced the discussion by focusing on how innovation is all about creating meaning for oneself. "Innovation is disrupting the curve and moving to a higher curve. Go bold, go big, and change your curve".
Saurav Mohanty said that one must invest in oneself as he/she is the only person who could ensure direct rewards and sustainability. "The purpose of innovation is to simplify the tasks and believe that it would make things happen".
The second half of the day began with a panel discussion on the theme 'Glocalization in business'. Moderator Prof Santosh Kumar Prusty opened the floor for discussion by stating that "Glocalization requires globalization".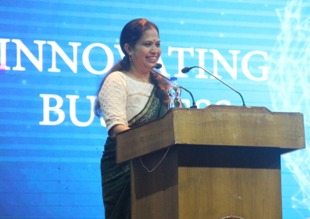 Vice president – sales, IBM, Prativa Mohapatra said about how businesses today have various facets, mainly globalization, glocalization, extreme glocalization, personalization and even reverse globalization and how these facets are visible in the culture, values and even attire of the business.
Vice president & business head -Utilities, resources & energy sector, Infosys, Binny Mathews said about how glocalization is an age-old concept and described real-time business scenarios that exhibit how global traditions and products are localized to suit the needs of the people.
Partner at Deloitte Debabrat Mishra emphasized the significance of imbibing a global mindset to survive in the ever-changing business world.
During a simultaneous leadership talk delivered by Head- Analytics of L&T financial services Ashesh Kumar spoke about delivering value proposition through analytics.
X-FIN coordinator Shivam Jolly gave the vote of thanks.