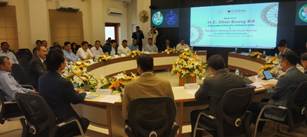 Bhubaneswar: South Korean industry captains evinced interest in investing in Odisha.
The 46-member industry and business delegation led by Republic of Korea ambassador in India Shin Bong Kil met the chief minister Naveen Patnaik and discussed about the investment opportunities in Odisha, here on Monday.
The Odisha chief minister, while welcoming the Korean Ambassador and the business delegation, said that both Korea and Odisha need to explore the opportunities for investment and strengthen trade, investment and tourism exchanges. Listing out the six focus areas of the State for investment, the chief minister said the State is eager to facilitate the growth of sectors like electronics manufacturing, petroleum, chemicals and petrochemicals, textiles, tourism and downstream to metal and food processing by providing a conducive business environment, industry-ready infrastructure and skilled workforce.
Patnaik said that the State is going to put in place a Vision 2030 document to ensure value addition to 50% of the metal produced within the State.
The chief minister said, "In addition, Bhubaneswar is home to some of the largest IT companies in the world and with the advent of embedded systems driven Industry 4.0, the planned electronic manufacturing cluster, with ready-built sheds and a walk-to-work development plan, near the IT behemoths would be an ideal place for electronics products manufacturing by Korean companies."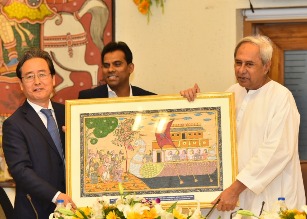 The chief minister said, "Discussions were held on investment in several sectors–petroleum & petro chemicals, electronics, handloom, tourism and food processing. The State will extend all kinds of support to the investor."
Odisha industries minister Dibya Shankar Mishra said, " Our government is quite hopeful of getting more and more foreign investments."
The Korean ambassador Shin Bong Kil assured that there is a strong possibilities of South Korean investments in various sectors including agricultue, fisheries and services.
The ambassador, while addressing a press meet, said, "For various reasons POSCO could not set up factory in the State but now Korea is going to start a new relationship."
Ki Cho Jung, representing Korea International Trade Association said, "Not only agriculture, but we are interested in every sector starting from commodities to manufacturing and services." Speaking to media on POSCO, Jung said, "We don't know the past, we are here to focus on the future."
The South Korean visiting delegation comprises of industries captains such as Samsung India executive director Peter Rhee, Hyundai Motors executive director – corporate affairs Youngjin Kim, Kia Motors executive director Yongsung Kim, Samsung Electronics department head Byunghee Woo, Hanwha Capital overseas president Heunggeun Yoo, Korea International Trade Association chief representative Heechul Jung, Korea Trade Insurance Corporation director Hongik Kim, Korea Plus team leader Taeyong Ahn, Korea Trade Investment Promotion Agency head Yongsun Park, KOTRA deputy ghead Hee Joong Kim, Korea SME's and Startups Agency head Jungwhan Moon, Korea Tourism Organisation director Jongsool Kwon, and Yonhap News correspondent Younghyoun Kim .