Angul: After yawing gap of 22 years, the Odisha government has recruited 96 forest rangers in one go. The new recruits include 35 lady forest rangers.
The State forest and environment minister, Bikarm Keshri Arkhu, Wednesday, took salute of the passing out parade of the forest rangers, here at Odisha Forest Rangers Training College.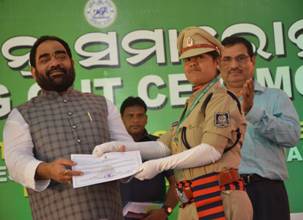 Addressing the 16th Convocation of the College, the minister said that Odisha has added 885 sq.km of forest during the last two years and positioned itself as 4th in India so far as forest cover is concerned. The said the State has received highest Rs 5933.98 crore CAMPA fund from the Centre.
The minister urged the new recruits who have completed their 18-month training to work with 5Ts mantra of chief minister Naveen Patnaik to enrich the forest and wildlife assets of the State.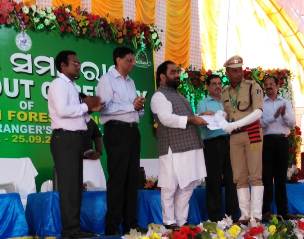 Chief principal conservator of forest Sandip Tripathy, special secretary Sudarsan Panda, regional forest conservator Pradip Raj Karat and the Odisha forest rangers training college, V. Karthik also addressed the convocatioin.
On this occasion, the minister presented gold medal to Swagatika Sahu for securing highest number in the training . Sumit Mohanty, Alok Sarangi and Ashok Kumar Behera received silver medal for securing highest number in individual subjects.
.