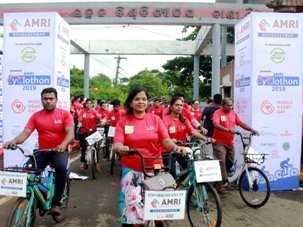 Bhubaneswar: Amri Hospitals, Bhubaneswar, a leading healthcare provider of Eastern India, organized an intensive fitness event Cyclothon in association with MoCycle at Bhubaneswar on Sunday to mark the celebration of World Heart Day 2019 and create awareness around ill effects of sedentary lifestyle on one's heart and resultant rise of coronary ailments in India.
Cyclothon, organized by Amri Hospitals in association with MoCycle, witnessed a participation over 800 cycling enthusiasts coming together to cycle through a 7 kilometer stretch from Utkal University, Vanivihar to Adivasi Ground in Unit-1 in the city.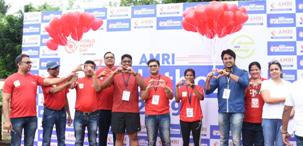 The Cyclothon was flagged off by Bhubaneswar deputy commissioner of police(DCP) Anup Kumar Sahoo along with Odia cine star and chairman of Mo College Akash Das Nayak, former MP and Odia cine star Sidhant Mohapatra, former captain of Indian Women's National Football Team, Sradhanjali Samantaray and Amri Hospital vice president and unit head Dr. Anuj Tiwari.
Dr. Mahesh Prasad Agrawala, Consultant,  Cardiology,  Dr. S.N. Panda, Cardiology & Electrophysiology, Dr. ChandrabhanuParija, CTVS and Dr. J N Patnaik, CTVS from AMRI Hospitals Bhubaneswar, participated in the cyclothon and promoted the theme of 'Healthy Heart'.
Delighted with the overwhelming response to the campaign, Dr. Anuj Tiwari said, "Cycling strengthens your heart muscles and enhances respiratory and circulatory efficiency. It also lowers the resting pulse and helps in reducing blood fat levels. It is heartening to see the response to this cyclothon and we hope more and more people would take up cycling to minimize the risk of heart diseases substantially."