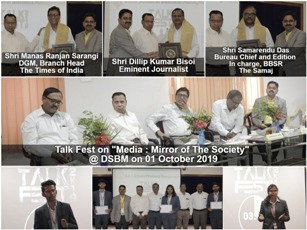 Bhubaneswar: Students of DAV School of Business Management, Bhubaneswar, expressed concerned over the paid news and fake news that are now ruling the roost in media arena.
Participating in a Talkfest on 'Media is Mirror', as many as 19 students of management and commerce disciplines said that the social media need to be regulated to filter the paid news and the fake news so that truth will prevail in the society.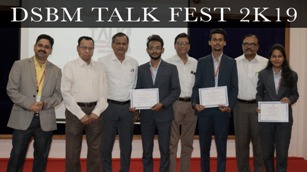 The Talkfest was addressed by Samaja bureau chief Samarendu Das as key note speaker while Times of India's Bhubaneswar branch head Manas Ranjan Sarangi and senior journalist Dilip Kumar Bisoi served as jury members. The president of DAV School of Business Management president, Madan Mohan Panda, presided over the Talkfest while the school principal D.N.Mishra gave the welcome address.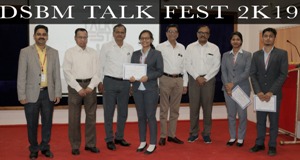 Senior journalist Bisoi said, " The print media and the television media are facing tough competition from the social media which is a matter of concern." Stating that there is no control over social media, he said its proliferation would jeopardize truth. The senior journalist highly appreciated the presentations by the students.
Sarangi addressed the forum with a feeling of pride for being in a very prestigious institution like DSBM where the students are groomed exactly like corporate professionals. He briefed the students on the history of media and opined that educational institutions should come up with unique curriculum specifically designed for content writing in order to enhance the employability skills of the students.
Explaining the present scenario of media in the society, Samarendu said, "We are in a phase of transition." He also described the ancient era media phase and threw light upon today's social media. He educated the audience about the pros and cons of social media and appealed the young students to make proper use of social media which can have a meaningful impact in the society.