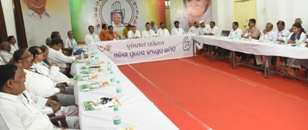 Bhubaneswar: The Odisha Congress Friday organised a Intellectual Convention to mark the 150th Birth Anniversary of Mahatma Gandhi.
The Convention inaugurated by AICC general secretary and Odisha in-charge Jitendra Singh. Convener Arya Kumar Gyanendra coordinated the programme. Odisha Pradesh Congress president Niranjan Patnaik addressed the Convention.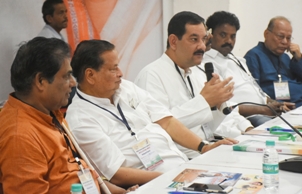 Participating in the discussion linquist Debi Prasanna Patnaik, former vice chancellor of Utkal Cultural University, Bimalendu Mohanty, senior journalist Rabi Das, columnist Tushar Kanta, former vice chancellor T Barik said that there was a conspiracy against the Gandhism in the country in recent years. They said that there is an undeclared emergency in the country. The Central government is using the print media and the electronic media for its own interest. Blaming the Central government for the present economic slowdown, the speakers said that the demonetisation decision was the sole cause of this situatiion.
AICC secretary G Rudraraju, Mastan Valli, Anil Choudhury, former minister Panchanan Kanungo, MLA Suresh Kumar Routray, Mohammed Moquim, senior advocate Dharanidhar Nayak, Sibananda Ray, Sudam Das, Shilabhadra Sashtri, Amiya Patnaik, Debjani Routray, Ziaul Haque, Mitrabhanu Mohapatra, Banambar Bariki, Janakikanta Patnaik, Bari Barik, Dr.Bibhuti Bhusan Jena, Suresh Panigrahi, Satya Prakash Nayak, Sudarsan Das, Nisikanta Mishra, Prasant Satpathy, Amiya Pandaba, Gobind Bhuyan, Gobind Chandra Chand, Manoj Jena, Uma Ballav Rath, Deepak Mohapatra, Sushanta Panda, Surya Naryan Panda, Biplab Choudhry, Binapani Samal, Swadihnabala Das, Nirab Charan Khuntia, Sailabala Jena, Sanjya Pradhan, Ramkrushna Parida were present.