Bhubaneswar: The ruling BJD's young woman brigade celebrated the Puja with all pomp and ceremony. They were seen in Puja Mandaps and at cultural shows organised on the occasion of Dusshera.
The women leader of BJD were witnessed relishing Dandia Raas organised by Odisha Tourism Development Corporation (OTDC) at Bhubaneswar Panthnivas.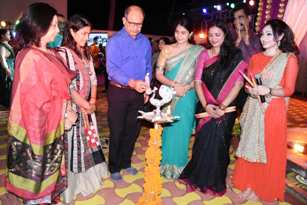 The newly appointed OTDC chairperson Srimayee Mishra saw to it that the Dandiya Raas get a overwhelming response from the Bhubaneswarites. To add glamour to the show, she had invited his party colleagues and social celebrities. The OTDC chairperson Srimayee Mishra, newly appointed State Disabled Commission chairperson Sulochana Das, adviser to women & child welfare department Sulata Deo, adviser Mission Shakti Lopamudra Bauxipatra and glamour girl Goongoon were seen in action in the Dandiya Raas in Panthniwas.