Kandhmal: The Odisha chief secretary, Asit Tripathy, 5Ts secretary VK Pandian and National Health Mission director Shalini Pandit Friday had their lunch with general public in a Aahar Centre in Boudh.
The Aahar Centres have been opened across the State by the Odisha government to provide subsidised meal at Rs 5. The simple meal meant for the labour class and other poor people comprises of rice and dalma, a typical Odia recipe prepared with dal and vegetables.
The three senior officers, who were on their district visits to Boudh under Mo Sarkar initiatives, reviewed the activities of the district headquarter hospital in the district.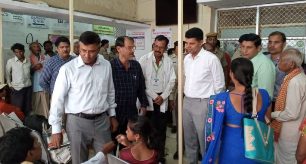 The three senior officials visited Kandhmal and Nayagarh during the day and reviewed the activities of the district hospitals.
Earlier, Pandian, who is also the private secretary to chief minister Naveen Patnaik, along with Shalini Pandit visited Malkangiri, Koraput, Rayagada, Nabarangpur, Kalahandi and Nuapada to had a first hand report about the functioning of the health services in the districts.