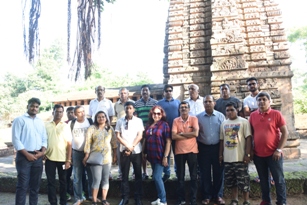 Bhubaneswar: As part of familiarization programme , around 20 domestic tour operators from different parts of the country were taken on a heritage walk on Saturday morning around the old city of Bhubaneswar.
These tour operators are here to participate in the 3rd Edition of Odisha Travel Bazaar organised by Odisha Tourism and supported by the Federation of Indian Chambers of Commerce (FICCI).
The objective of heritage walk was to familiarise the group on the great heritage corridors of the temple city of Bhubaneswar. Walk started from the earliest monument of Parsurameswar and ended at the Herbal Garden on the bank of holy pond of Bindusagar. Seven monuments were covered in chronological order while the national awardee tour guide Tapan Kumar Mishra enlightened the operators on the architectural development in temple construction through ages in the State and significance of Odishan temple architecture.
The Operators were spellbound to see the great architectural efflorescence and have expressed positive response on the promotion of Odisha's product including heritage, cultural, tribal and Buddhist tourism.