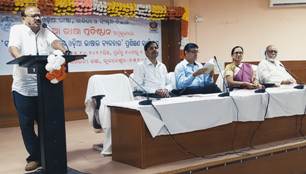 Bhubaneswar: The Odisha government has started a five-day programme from Monday to teach Spoken Odia to Sarkari Babus in the State.
The course titled 'Use of Odia Language in Government Offices' is being conduced by the Odisha Bhasa Pratishan in the Culture Bhawan conference hall. As many as 40 Babus from 15 departments of Lokseva Bhawan have joined the programme.
Culture secretary Manoranjan Panigrahi, culture director Bijaya Nayak, general administration additional secretary Himansu Bhusan Panda, and Odisha Bhasa Pratishan director Tamasarani Das Mohapatra launched the programme with introductory speeches. Eminent educationist Kailash Chandra Tikayat, Surendra Kumar Mishra, Hara Prasad Mishra, Sitansu Kumar Das, and Baisnav Charan Mohanty will be training the Babus how to speak Odia and use Odia in official communication and transaction with the general public.