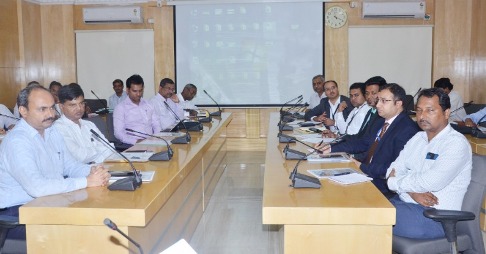 Bhubaneswar: Odisha is going to showcase the investment potentials in the proposed Petroleum, Chemicals and Petro-chemicals Investment Region at Paradip at the International Conference on petroleum and petrochemicals to be held from November 11 and 12 at Mumbai.
The union chemicals and petro-chemicals secretary, P Ragevendra Rao, informed that the a two day international conference is being organised at Mumbai in November to attract investments from the country as well as from abroad into petroleum and petro-chempcals sectors.
The union secretary, who had a discussion with the Odisha chief secretary Asit Tripathy, here on Tuesday, suggested that Odisha should participate in the conference to show case the investment potential of the Paradip PCPIR.
The chief secretary directed the industry secretary Hemant Sharma to make necessary preparation for the participation in the Mumbai conference. He said that the investment potentials of the plastic park at Paradip and the PCPIR be presented at the conference which is going to attended by investors from all over the world.
The union secretary, who visited the Paradip early in the Tuesday morning, said that the Paradip PCPIR would be a world class project.
The Odisha industries secretary, Hemant Sharma, said that the PCPIR is being developed over an area of 284 sq.km. He said that the master plan for the project has been prepared and the basic infrastructures are being developed.
Sharma urged the union secretary to take up matter with the Central government for according statutory clearances like environment clearance to the project. Stating that the State government is now bearing all the expenses of the PCPIR, he suggested that the Centre should work out a specific funding model for the project.
The Idco CMD, Sanjay Kumar Singh, suggested that a Centre for Plastic Engineering and Technology (CPET) be established in Koraput district to which the union secretary agreed in principle.
Singh informed the meeting that the State government has given 15 acres of land for establishment of a higher education and research institution of CPET.