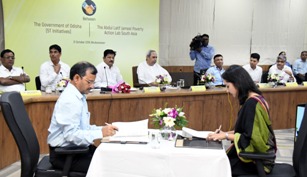 Bhubaneswar: The Odisha government Thursday signed an MoU with Abdul Latif Jameel Poverty Action Lab (J-PAL) South Asia, founded by Nobel laureate economist couple Abhijit Banerjee and Esther Duflo, for leveraging from the poverty alleviation programmes implemented in the State.
The MoU documents were signed by the Odisha development commissioner, Suresh Chandra Mohapatra and J-PAL South Asia CEO Shobhini Mukherjee in the presence of chief minister Naveen Patnaik, here on Thursday.
Speaking on the occasion, the chief minister said that this partnership would help in fulfilling the increasing aspirations of the Odisha people. He said this would make the Team Odisha able to achieve its goal in bringing in the required transformation.
Shobhini Mukherjee said the aim of the partnership is to bring in the significant change in the lives of the poor people through proper management of the anti-poverty programmes and capacity building.
As per MoU, J-PAL South Asia will provide technical assistance to the State government for scaling up evidence-backed programmes to improve development outcomes across Odisha. Commensurate with the 5T programme of the State Government, this partnership aims at bringing transformation in the lives of people through research-based intervention in policy formulation.
The partnership will conduct an annual Policy Dialogue to identify the government's top policy priorities, conduct discussions to share evidence, and jointly come up with innovative solutions that can be field-tested through rigorous randomised evaluations. Topics for the Policy Dialogues include malnutrition, women's empowerment, distress migration, health-worker performance and improving agricultural productivity.
State agriculture minister Arun Sahoo, panchyati raj minister Pratap Jena, health minister Naba Kishore Das, chief secretary Asit Tripathy, chief minister's adviser R Balakrishnan, 5Ts secretary VK Pandian, and IT secretary Manoj Mishra were present.