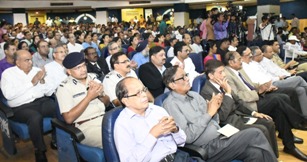 Bhubaneswar: Vigilance inspector Anusaya Senapati was adjudged as the best woman investigating officer while vigilance inspector Sadananda Pani as the best investigating officers.
The Odisha chief minister, Naveen Patnaik, Friday gave away the trophies to the best inspectors. He also handed over the best vigilance division trophy to Bhubaneswar vigilance SP Sarthak Sarangi and best vigilance unit trophy to Jharsuguda vigilance DSP Dilip Kumar Kar. Hemanta Kumar Swain, special PP in the Bhubaneswar special vigilance judge court got tropy as the best public prosecutor of vigilance.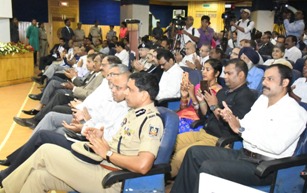 Speaking at the state level function organised by the Odisha vigilance police on the occasion of the Vigilance Awareness Week 2019 , the chief minister said that his government is working on a 'zero tolerance to corruption' mission in the State. He said the 'Integrity clubs' have been set up in schools and colleges, ' Awareness gram sabhas' involving members of panchyati raj institutions and self-help groups (SHGs) have set up during this years Vigilance Week to carry the vigilance messages to the grass root levels. He said to strengthen the vigilance vigilance, the government has approved a new vigilance division at Rourkela. The state vigilance academy established at Bhubaneswar is aimed at upgrading the skill and knowledge of the vigilance officers, he added.
" All of us aware that transparency figures at the top of the 5T initiatives undertaken by our government with a view to achieve transformational goals in governance and ensure better delivery of public goods and services to the people. " Corruption undermines growth, development and good governance. It also erodes the foundation of democracy and frustrates the hopes and aspirations of the people, by denying them the right to live with dignity."
In cartoon & caption writing competition, Samata Mishra of BJEM School, Rinku Behera of Telkoi High School, and Shreya Mishra, DAV Public School, Cuttack, were awarded in junior group while Srujanika Rayguru, BJEM School, Chandan Champa Sore of Rajdhani College, and Swetapragyan Nayak of RD Womens Junior College were awarded in senior group.
In Odia debate competition, Dharitiri Panigrahi, DS Law College, Kendrapada, Delhi Public School, Dhenkanal, Muktikanta Das and Kamadeva Sahoo, Similiguda College, Koraput were awarded in the Odia debate competition while Pritiman Mishra, SCB Medical College, Cuttack, Alisha Biswal, SBD International School, Bhadrak, and Sahil Mohapatra, NC Autonomous College, Jajpur, were awarded in English debate competition.
Development commissioner Suresh Chandra Mohapatra and vigilance director Debasis Panigrahi graced the occasion.