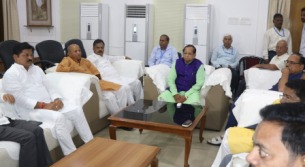 Bhubaneswar: The Odisha Assembly speaker, Surya Naryan Patro, Friday took a meeting of the chairpersons of various committees of the House. The meeting discussed about the working of the House committees.
Deputy speaker Rajani Kanta Singh and the chairmans of privilege committee Pratap Jena, estimate committee Pratap Chandra Deb, public enterprise committe Atanu Sabyasachi Nayak, departmental standing committee-2 Nrusingha Charan Sahoo, standing committee-3 Prafulla Samal, standing committee- 4 Bhupinder Singh, standing committee -7 Pradip Kumar Amat, standing committee-8 Mohan Charan Majhi, standing committee-9 Debi Prasad Mishra, petition committee Badri Narayan Patra, papers laid on the table committee Prasanta Kumar Muduli, government commitments committee Pradip Panigrahi, library committee Pradip Kumar Maharathi and ethics committee Amar Prasad Satapathy participated in the meeting.
The Assembly secretary, Dasarathi Satapathy, was present.