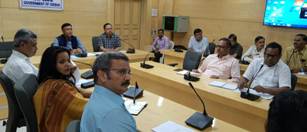 Bhubaneswar: Standing crop over 3 lakh hectares of land has been damaged due to the Cyclone Bulbul.
This has been said by the special relief commissioner Pradeep Jena, here on Sunday. He said that out of the 3 lakh hectares crop in 2 lakh hectares have been damaged over 33%. According to him about 5,500 houses have been damaged due to the cyclone.
The SRC clarified that there was a loss of one life due to the cyclone even though the media reported 3 deaths.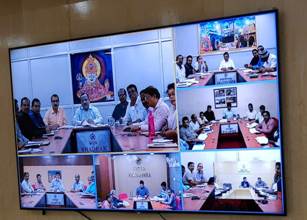 The chief secretary, Asit Tripathy, took stock of the situation in the aftermath of the Cyclone Bulbul with secretaries of concerned departments, here on Sunday. He also had a video conference with the RDC and collectors of affected districts.
The SRC said that the cyclone has caused extensive damages in six districts of Kendrapada, Jagatsinghpur, Jajpur, Bhadrak, Balasore and Mayurbhanj in the State. He said that the 8660 people those were evacuated and kept in 91 cyclone shelter have been sent back to their homes after normalcy returned.
The energy secretary, Bishnupada Sethi, said that electricity supply was disrupted due to cyclone and about 16 lakh consumers were affected. However, by now 15 lakh connections have been restored, he added. The secretary assured that the remaining connections would be restored by Tuesday.
The fisheries and animal husbandry secretary, R. Raghu Prasad, said 65 animal lives have been lost in the cyclone.
The chief secretary directed that the details of damages caused due to the cyclone be prepared by the district collectors with in 5 days so that the government would take steps for announcement of a compensation package.
Agriculture principal secretary Sourav Garg, Panchyatiraj principal secretary Deo Ranjan Kumar Singh, women and child development principal secretary Anu Garg, CESU CEO Arun Bothra were also present.