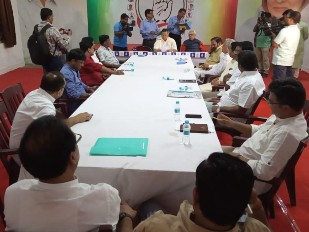 Bhubaneswar: Odisha Congress is going to organise a massive demonstration in the city on November 23 protesting against economic slowdown, acute unemployment, price rise of essential commodities and the anti-farmers policy of the BJP government at the Centre and the BJD government in the State.
All India Congress Committee observer and former union minister Deepa Dasmunshi and Odisha Congress in charge Jintendra Singh will address the State-level rally on November 23.
The State-level demonstration will be a culmination of a State-wide demonstration on November 20,21 and 22
The MP candidates of the party in the 2019 elections were given charge to organise the demonstrations in their respective areas taking the support of the party's MLA candidates. They were also asked to mobilise people for the State-level deomonstration.
The demonstration strategy was worked out in district congress observers meeting held under the chairmanship of PCC president Niranjan Patnaik, here on Thursday.
Congress legislative party leader Narasingha Mishra, MLAs Tara Prasad Bahinipati, Ramesh Jena, Adhiraj Mohan Panigrahi, Dasarathi Gomango, Koraput Lok Sabha MP Saptagiri Ulaka, Bijayalaxmi Sahoo, Ganeswar Behera, Bhujbala Majhi, Jagenswar Babu, Debasish Patnaik, Navin Nanda, Uma Ballav Rath, Arya Kumar Gyanendra, Satya Prakash Nayak, Gyanadev Behura, Yogesh Agarwal, Samarendra Mishra and Bismaya Mohapatra were present in the meeting.