Bhubaneswar: The President of India, Ramnath Kovind, did not fail to recognise his one time friend Birabhadra Singh in the crowd of the audience at the Utkal University Platinum Jubilee ceremony on Sunday.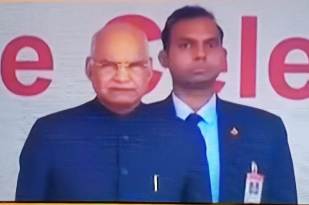 The President forget his protocol and asked Dharmendra Pradhan, the union petroleum minister who was on the dais to call Singh to the stage. When Singh reached the dais, the President exchanged pleasantries.
The meeting of the two friends kept the audience bemused.
Birabhadra, a tribal leader from Odisha's Mayurbhanj district, was MLA twice from Khunta and Udala in the home district. A close associate of legendary politician Biju Patnaik, Birabhara has his political career in Jana Congress, Janata Party and Janata Dal.
Birabhadra was Rajya Sabha member when Kovind was in the Upper House as BJP member.