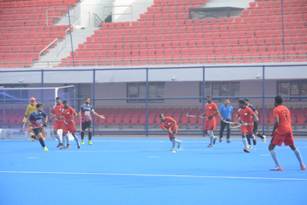 Bhubaneswar: Four matches were played in the 68th All India Police Hockey Championship 2019 at Kalinga Stadium, here on Wednesday.
The first match of the day was played between Maharashtra Police and Uttarakhand Police. In this high voltage match, Maharashtra Police won the match defeating its counterpart by a slender margin of 2-1 goals.
The second match of the day was played between ITBP, Jalandhar and Manipur Police. In this keenly contested match, ITBP, Jalandhar finally won the match by 5-3 margin.
The third match was played between Jammu & Kashmir Police and Chhatisgarh Police. In this one-sided match J & K Police team won over Chhatisgarh by a huge margin of 7-0 goals.
The 4th and last match of the day was played at 3 pm between CISF, Delhi and Gujarat Police. This was again an one-sided match and CISF, Delhi dominated the game from beginning to the end. Finally, CISF, Delhi won the match by a huge margin of 11-0 goals.
Digbijaya Singh was the director in today's matches. Five important matches have been scheduled to be played tomorrow. Odisha Police will begin its journey tomorrow in the Championship tournament.