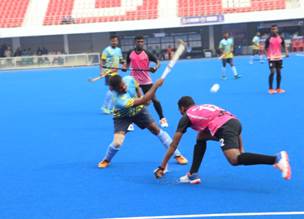 Bhubaneswar: Odihsa Police , CRPF, BSF Jalandhar, Pubjab and Maharastra Police won their respective matches hands down on the sixth day of the 68th All India Police Hockey Championship- 2019 held at Kalinga Stadium, here on Saturday.
The host team Odisha Police dominated today's match against Tripura Police. The players of Odisha Police team played an excellent hockey throughout the match. Finally the team won the match by a margin of 7-1 goals.
While the Odisha team was led Anil Kullu, Deep Chand Tigga was the captain of Tripura Police.
In the first match played between CRPF, Delhi and Chandigarh Police today, the star- studded CRPF team led by its captain Ignaxious Toppo exhibited excellent hockey tricks and dominated the opponent right from the beginning. Finally CRPF won the match by a huge margin of 9-0 goals. Dharam Pal was the captain of Chandigarh Police.
In the following match BSF, Jalandhar dominated the opponent Karnataka Police won it by a huge margin of 11-1 goals. While Saranjit Singh was the captain of BSF, Jalandhar, Pradeep was the captain of Karnataka police.
The third match of the day was played between Punjab Police and Bihar Police. It was again an one-sided match and the team Punjab dominated the match right from the beginning to the end. Finally, Punjab Police led by its captain Gurbaj Singh won the match by a margin of 6-0 goals. Vikey Singh Rana was the caption of Bihar Police.
In the last match played today, Maharashtra Police defeated the Uttar Pradesh Police by a margin of 5-1 goals. Arun Yadav was the captain of Maharashtra Police and Sunil Kumar was the captain of Uttar Pradesh Police.
Quarter final matches of the tournament will be played tomorrow.