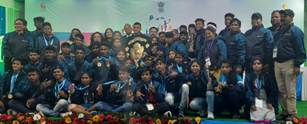 New Delhi: The Odisha contingent was crowned champion for the second consecutive year in the national level sports meet Hausla-2019, organised byRastriya Janasahajog and Balvikash Sanstan under the aegis of the ministry of women & child development(WCD), which concluded here on Saturday.
Putting up a stellar performance at the National meet the team from Odisha won 14 Gold, 12 Silver and 4 Bronze medals across all categories. The State of Chhattisgarh finished second.
Eminent Cricketer and parliament memeber Goutam Gambhir gave away the prize to the winning teams in presence of union secretary for women and child development Rabindra Pawar, special secretary Ajay Tirkey and joint secretary Astha Saxena.
The State level Sports meet Hausla- 2019 was organised on 1st and 2nd of December, which saw participation of inmates residing across 240 Child Care Institutions across Odisha. Out of which 39 boys and girls were selected to represent the State at the National Meet. It is pertinent to note that these children of CCIs have been provided due support and guidance by the State W&CD and Mission Shakti department.
Odisha WCD minister Tukuni Sahu and principal secretary Anu Garg have congratulated the winning team on their outstanding achievement.