Berhampur(Odisha) : Vijay Amruta Kulange, the district collector of Ganjam in Odisha turned Good Samaritan as he saved the life of a road accident victim on Sunday.
Vijay Amruta came across the accident victim when he was returning after attending a health camp in Seragada.
One Siba Pradhan of village Marudi, critically injured as his motor bike he was riding collided with an auto-rickshaw, was bleeding profusely and writhing in pain on the road. When the passers by were frenetically looking for an ambulance, the district collector stopped his car and made arrangement of shifting the victim in his car to the nearest Hinjili hospital.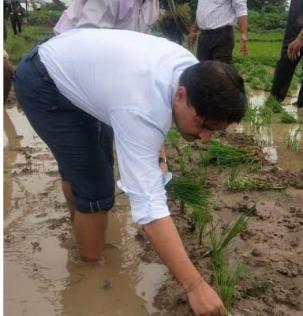 The young IAS officer is as such a darling of the people of the district represented by the chief minister Naveen Patnaik for his yeomen services.
Vijaya Amruta was in news recently as he was seen planting paddy saplings in the field with farmers and peeling off posters from walls of public institutions.