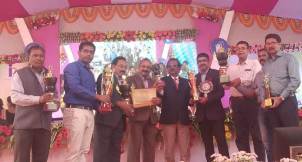 Bhubaneswar: Koida iron ore mines of Essel Mining & Industries Ltd.(EMIL), a group company of Aditya Birla Group, has bagged prizes under different categories for mines safety measures. The prizes were handed over at a function, organised by Indrani Patnaik Mines under the aegis of Chainbasa Mines Circle as part of the Annual Mines Safety Week observatioin, at Joda Tata Steel Stadium on Moday.
The Koida mines has been conferred with the first prize for creating awareness about mines safety and electrical safety. It got second prize for statutory compliance, machinery management and maintenance. The Koida mines also got two third prizes for survey, scientific study and lighting besides overall performance.
EMIL's Koida mines has been listed as one of the three mines in Group A-2 of Chainbasa Mines Safety Circle.
EMIL vice president V. Srikant has said that the achievement is due to the hard and sincere work by all the workers and employees of the company.
The head of mines business of EMIL, Prasanna Panda, said that the company is always striving for technical excellency, safety in workplace and social security.