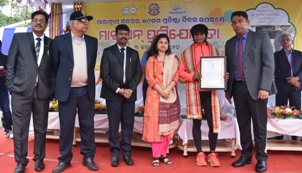 Paradip: The 17th Paradip Marathon 2020 was conducted by the Gopabandhu  Kreeda Sansad of Paradip Port Trust occasion of Port Foundation Day, here on Friday.
Port chairman Rinkesh Roy flagged off the same Marathan at the Hanuman Temple square. The Marathon covered a route of 14 Kms and concluded at Gopabandhu Stadium amid great encouragement by the inhabitants of port township and members of other organizations. A total of 678 participants comprising of 593 male and 85 female participated in the Marathon.
Sudhanu Nayak of Odisha Police won the first prize in the men category by completing the distance in 45 minutes 16.5 seconds, Budra Bisi Nayak of Odisha Police got the second prize (45 minutes 20 seconds) and Mukund Banra of Jharkhand got the third prize (45 minutes 28.9 seconds) in the men category.
In the women category, Itishree Mohanta of Mayurbhanj won the first prize (57 minutes 53.9 seconds), Sandhya Murmu of Mayurbhanj got the second prize (58 minutes 3.9 seconds) and Sakro Besra of Jharkhand got the third prize (58 minutes 52.3 seconds).
Chief guest Rinkesh Roy, guest of honour Subhalaxmi Roy, President Paradip Ladies Club, and S.D.Bhanot, DIG Coast Guard gave away the cash prizes at the valedictory function held at Gopabandhu Stadium.
International athlete Jauna Murmu was also felicitated on the occasion. She advised the athletes to toil hard to achieve success and solicited goodwill of denizens of Paradip for her success in upcoming Olympics.