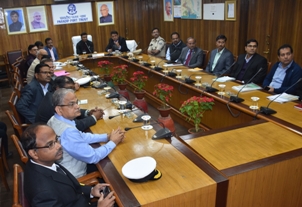 Paradip: The Odisha chief secretary, Asit Tripathy, said that the Rs 7,000 crore investments in various porjects of Paradip Port is going to further economic development of the State.
Tripathy, who was on a one day visit to the port town on Saturday, reviewed the activities of Paradip Port at a high level meeting, wherein Port chairman Rinkesh Roy outlined the issues and presented the updates for discussion.
The chief secretary visited the state-of-the-art Sewage Treatment Plant and the Dry Fog System installed at the Mechanized Coal Handling Plant. He also launched the programme for planning 1 lakh saplings and beautification of the township entry.