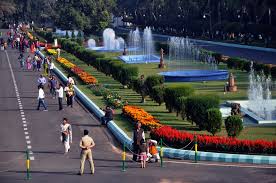 Bhubaneswar: Hundreds thronged the Odisha governors garden as the gates opened for the public on Sunday.
The visitors were awe struck when they saw the sprawling lush green lawns, colourful flower beds, musical fountain, open aquariam, deer park and bird enclosure in the Raj Bhawan campus.
The little sunshine made their visit pleasant today. Visitors indulged in selfie taking with flower beds, lawns musical fountain as the backdrops.
The governor, Prof. Ganeshi Lal, distributed chocolates among the children who met him on the occasion.
The Raj Bhawan garden will remain open for the general public from January 5 to 19 between 2.30 pm and 5 pm including Sundays and holidays. School children can visit the garden between January 6 and 21 except on Sundays between 8.30 am and 10 am. For this, school authorities need to send request to ADC to Governor or ACP, Raj Bhavan, Security.
For hassle free entry into the garden, Raj Bhavan has developed a mobile phone application namely 'Rajbhavan Odisha', which is available on Google Play Store for Android users. Using the application, visitors can generate QR Code entry pass on their smartphones which will be scanned at Raj Bhavan gate.
However, the manual entry system through registers will continue to be available near the Raj Bhavan Reception Centre.
Visitors have been requested not to carry tiffin boxes, food packets, water bottles and cameras with them.