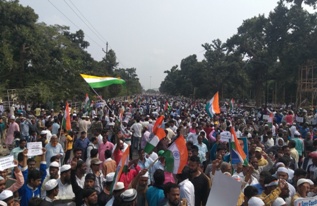 Bhubaneswar: "We the people of India-Odisha", an organisation of civil societies and activists organised massive rally protesting against the CAA, NRC and NPR, here on Thursday.
The rally, which was held on the Mahatma Gandhi Marg, was addressed by Lok Sakhti Abiyan founder Prafulla Samant, Muslim community leader Abdul Bari, senior journalist Rabi Das, Congress president Niranjan Patnaik, CPM leader Janardan Pati, and leaders of CPI, AAP.
The organisation later sent a memorandum addressed to Odisha chief minister Naveen Patnaik urging him to oppose CAA, NRC and NPR.
"We urge you to take a clear and unambiguous stand on opposing CAA, and refusing to implement the dangerously linked NRIC and NPR", said the memorandum submitted by the "We the people of India-Odisha" forum.