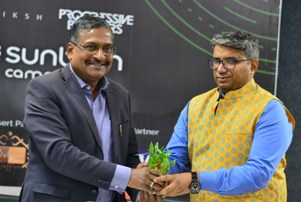 Sambalpur: Ethos'20, the annual flagship fest of Indian Institute of Management-Sambalpur (IIMS) was inaugurated in the institute campus, here on Saturday.
The second edition of the annual business, sports, and cultural fest was inaugurated by Hindalco CEO(Cluster Head) RK Gupta in the presence of IIMS director Mahadeo Jaiswal, and Axis Bank's Sukhamaya Swain.
Speaking on the occasion, director Jaiswal said, "Fests as such are extremely essential for a student's overall learning experience. They ignite a competitive spirit within students while uniting them towards a common cause. These are indispensable platforms where a student can express their creativity and showcase their talents. It also provides them with a much-needed break and helps them create newer vistas around their life goals."
The three-day Ethos'20, with the theme 'Back to 90s', will see participation from over 8200 applicants from top B-schools of the country, namely, IIT Dhanbad, IIM Ranchi, IIM Vishakhapanam, NIT Rourkela among others and is expecting a footfall of over 9000 students.
Ethos'20 will be embellished with a plethora of management events. The various clubs of IIMS will be conducting their flagship events, as a part of Ethos'20. The highlights are Brandbaazi, conducted by Emporia, the Marketing Club and E-Stratega, conducted by Consiglio, the Consulting Club. The online registrations saw almost 1300 contestants for each of these events. The ongoing second rounds of these contests and many more consist of mainly case study analysis and presentations which test the students' business prowess and bring out the inner management enthusiast in them. Other management events will include Equinotch, organised by Bears N Bulls, the Finance club, Enigmatic by the Operations club, Sigmato, unRavel by the IT and data analytics club, R squared and SAMvikshaby the HR Club, Hridaya. Pitch-Up and Hurrikeynes will also see participation from numerous students.
The sports committee will be conducting various sporting events, namely, Slam Dunkfor basketball,Burning Feathersfor badminton, Score & Roar for football and many others. An e-gaming section, Mindbusters will also be a part of Ethos'20 where events will be conducted by Cyberspark, the esports club of IIM Sambalpur. Here, contestants will compete whilst playing popular e-games such as PUBG and Counter strike where the winner takes all. The cultural committee of IIM Sambalpur, Kalakriti, will be hosting an array of gala events to keep the audience entertained. The highlights for the cultural section of Ethos'20 will see a fashion show,Ramp Burn and I-Factor where the participants get a chance to show their X-Factor among many others. The showstoppers will be the popular Hindi rock band Antariksh performing on 2nd of February and electronic music duo Progressive Brothers performing on the 3rd of February.
Abhishek Yadav, Convenor, Ethos'20, IIM Sambalpur said, "After the resounding success of our inaugural edition last year, Ethos'20 will take the excitement a notch higher with its nostalgic theme, "Back to 90s". The version 2.0 challenges everyone with an eclectic list of events that will give a nail-biting and memorable experience. The student body of IIM Sambalpur has worked very hard to organize the events and we are thankful to every participating institution for taking interest and being a part of Ethos'20. We are hopeful that together we can make this fest a grand success!"