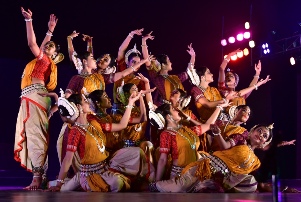 Bhubaneswar:The 16th Dhauli-Kalinga Mahostsav, jointly organised by Odisha Dance Academy, Art Vision and the State tourism department, unveiled Monday a scintillating evening for it's audience with the majestic Dhauli Stupa in the background. The Mahotsav this year has been dedicated to Odissi dance Guru late Gangadhar Pradhan.
The three day festival boasts of cultural multiplicity and a whole range of diverse stream of performing arts, be it classical, folk or martial. The penultimate objective of the Mahotsav (Festival) is to preserve, promote and popularize the heritage at the national and international level.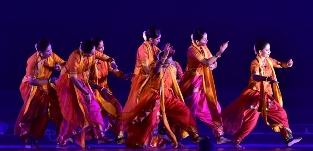 The inaugural presentation was Odissi dance by Orissa Dance Academy and Srjan, Bhubaneswar. Both the institutions jointly presented Pallavi, an offering which was tribute to Guru Kelucharan Mohapatra. Pallavi set to Raga-Sankaravaran & Taal-Ektali and Raga- Hanshadhwani & Taal-Ektali. It is a pure dance form with movements of lyrical grace. The dance composition was made by Guru Kelucharan Moahapatra, music by Pandit Bhubaneswar Mishra and dance choreography was made by Guru Aruna Mohanty and Guru Ratikanta Mohapatra.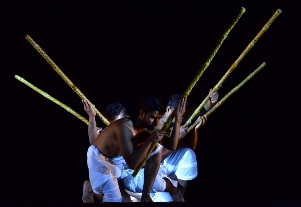 Evening next presentation was Kathak dance by Rajashree Shirke founder of Lasya Centre for Dance Education and Research, Mumbai. She presented prodigious and miraculous story in the history of the Vaarkari Sampradaaye of Maharastra Saint Poetess Kanhopatra, a story that bewilders historical and spiritual enthusiasts till today. The script, concept, choreography, direction and costume design was made by Rajashree Shirke.
The opening day evening came to end with the presentation of a contemporary dance by Astad Deboo and Group, Mumbai. Their dance interpret Mahatma Gandhi's quotes in today's context. The dance they have made mesmerized the audiences till the end.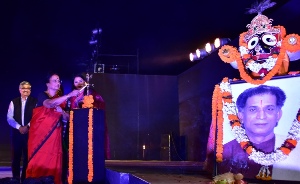 The Mahostsav was inaugurated by veteran Odissi exponent and former vice chancellor of Sambalpur university Priyambada Mohanty-Hejmadi. The chief advisor to chief minister office, R Balakrishnan, renowned linguist Devi Prasanna Patnaik, secretary Orissa Dance Academy and Odissi Guru Padmashri Aruna Mohanty, and secretary Art Vision and Odissi Guru Ileana Citaristi. Itishree Devi and Mrutunjaya Rath were the master of ceremony.