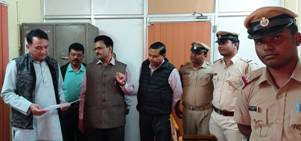 Bhubaneswar: The Odisha police is going to be first in the country to introduce Artificial Intelligence in its work.
The minister of state home, Dibya Shankar Mishra, Tuesday hailed the initiative of the State Crime Records Bureau (SCRB) in adopting the new age technology like AI in the police jobs.
Mishra who visited the SCRB, here, acquainted himself about the functioning of Virtual Police Station and the State Control Centre for CCTNS. Director SCRB Rajesh Kumar and SP Computer Satish Gajbhiye appraised the minister about the achievements made by the Virtual Police Station and the State Control Centre.
The minister appreciated the initiative for online registration of motor vehicle theft cases. He was happy to know that so far 10 FIRs have been registered in Virtual Police Station relating to unknown MV theft cases. He emphasized the need for inclusion of some more categories of cases for online registration by the public.
The Director apprised him that soon an SMS alert facility will be incorporated in this module. So that immediately after visit of police team to the accident spot, an SMS alert will go to all concerned and the insurance company as well.
Mishra visited the State Control Centre for CCTNS Project and was delighted to know about the functioning of the Control Centre which is remotely monitoring the connectivity and computer related issues of the entire State at SCRB. He also visited state level "Mo Sarkar" Call Centre at SCRB which is functioning as internal feedback mechanism of police department.
He also appreciated functioning of the Road Accident Analysis Module and Inter Operable Criminal Justice System ( ICJS).
SCRB directed said that the Mobile Application (SAHAYATA) has become very popular among the general public. He informed that so far 10,000 people have downloaded SAHAYATA adding that so far 4,02,969 service requests have been received in respect of 18 citizen services being provided through Citizen Portal and SAHAYATA mobile App. Rajesh Kumar also explained the functioning of the ARAKHI mobile Application meant for the police officers working in the field.