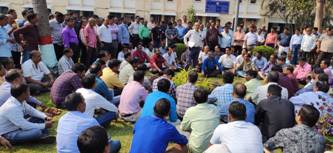 Bhubaneswar: The employees of Odisha secretariat are agitated over the denial of Dearness Allowance (DA) arrears.
The employees under the aegis of Odisha Secretariat Employees' Federation Monday submitted a memorandum to the chief minister Naveen Patnaik.
The Federation has demanded grant of 5% DA with effect from 01.07.2019 instead of 01.01.2020.
In the Memorandum, the Federation has said," Government employees across the State covered under ORSP Rule 2017 have been deeply shocked to learn that government have released additional dose of DA at the rate of 5% by enhancing the existing rate from 12 to 17% with effect from 01.01.2020. In principle the State government have decided to adopt the rate of DA and date of its effect announced by the government of India from time to time since 1978-79."
"The present decision of the State government to release DA after 6 months on the plea of resource constraints has not gone down well with the employees as they have sacrificed a lot for improvement of financial condition of the State which includes abolition of lakhs of posts , withdrawal of leave surrender benefits, payment of professionals", said the Federation in the Memorandum .