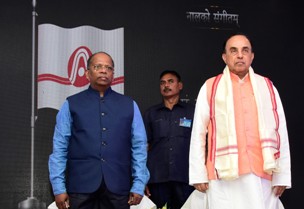 Bhubaneswar: Eminent economist and Rajya Sabha member Subramanian Swamy, said that the Public Sector Undertakings (PSUs) have a crucial role to play in shaping the New India.
Swamay, while delivering the 18th edition of NALCO Lecture Series on 'Relevance of PSUs in Shaping New India', here on Saturday, said: "The Public Sectors are important for the development of India and these sectors need to be encouraged to prosper. The PSUs should be given freedom to take decisions and operate in sync with the market dynamics." He stressed that Public Sectors should move beyond profit making and should focus on the multi-dimensional objectives. There are certain sectors that can be explored and developed by Public Sectors only.PSUs also need to be ready to compete in terms of commercial principles, he added. "India should recognize the strength of the PSUs," the Rajya Sabha MP said. He also appreciated NALCO's contribution, as an integrated business entity, towards Indian aluminium sector in particular and Indian economy as a whole.
While delivering the welcome address, the Nalco CMD, Sridhar Patra, said that as a Central Public Sector, NALCO has always given priority to boost the country's economy and serve the interest of the Nation through continuous improvement in production, productivity and profitability and also works beyond profitability for promoting social and economic development through its CSR arm. "The company is dedicated to work towards the sustainable development of the Nation and Indian Industry in years to come," he added.