Bhubaneswar: Malaya Mishra, the former diplomat who has knowledge about India Diaspora being serving the union ministry of foreign affairs for sometime, has expressed his doubt over Odisha government's claim that it has received Rs 2.32 lakh crore investment commitment from NRIs.
"Recently government of Odisha claimed Rs 2.32 lakh crore crores investment commitment from NRIs. I am wondering about the figure", said the former diplomat doubting the credibility of such claim. He said I would be happy if the total investment commitment by the Indian diaspora in the country would match that figure.
"Any initiative from government and non government agencies in attracting Odia Diaspora for investment should be realistic, truthful and practical, " Mishra said while speaking at the 52nd meeting of Think Tank at Bharatiya Vidya Bhawan, here recently. Think Tank chairman and former bureaucrat Vivek Pattanayak presided over the meeting.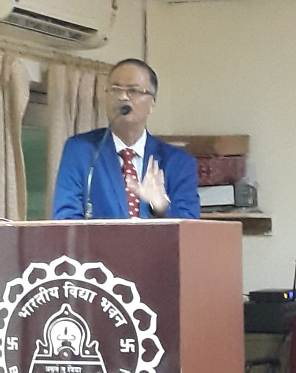 Malaya Mishra , a 1979 batch of Indian Foreign Service, had a distinguished diplomatic career. He served in Indian missions in countries like France, Iran, USA and Germany and was High Commissioner of Seychelles and Ambassador to Hungary. While visiting various countries on diplomatic assignments he met and interacted with Odia Diasporas individually and in groups and studied their interest, expectations and attitude. Mishra was also worked in the ministry of Indian overseas affairs which later merged into the ministry of foreign affairs.
Mishra was also critical of merger of the ministry of Indian overseas affaris with the ministry of foreign affairs stating that it diluted the focus on the NRIs.
Highlights of Mishra who spoke on 'Rebuilding Odisha: The Role of Odisha Diaspora':
Diaspora means the dispersion or spread of any people outside their home land. This expression came into prominence with Jews remaining outside Israel. Normally, diasporas have longing and belonging for their homeland. In order to address the concerns of Indian Diasporas the government of India established a separate NRI Affairs Ministry in May 2004 which was later renamed as Ministry of Overseas Indian Affairs (MOIA). But the Ministry was merged with Ministry of External Affairs (MEA) on 7th January 2016 on the principle of minimum government and maximum governance. With this merger it is felt that the cause of Indian diasporas is somewhat diluted. However, the issue of OCI cards (Overseas Citizen of India card) in place of NRI and PIO cards has simplified the process and found to be more beneficial to the NRIs.
Organizing Pravashi Bharatia Divas (PBD) is one of the main initiatives of government of India which provides a platform to the OIC community to engage with the government and people of their homeland and net-working with other NRIs all over the world. Issues concerning trade and investments, emigration, education, culture, health and science & technology of NRIs are highlighted in this convention. Previously it was held each year. Now it is being held biannually.
The population of Indian Diaspora spreading all over the world is quite sizeable. So also their remittances to India. But Odisha's share, both in terms of size and remittances, is very negligible. While Kerala covers 60% of the total remittances, Odisha's share is only 0.04%. It ranks 16th position amongst all other States .The population of Odisha Diaspora is also less than 0,05%. There are two sides for such poor remittances from Odisha Diaspora . On the one side the interest and volition of Odia NRIs to be connected to their homeland and take an active role for its development . The other side is appropriate response from the people of their home state, Odisha, and its government. Odia NRIs in Gulf countries, Oman, Malaysia, USA,UK ,and particularly, in Dubai are two types : top business men and blue colored workers. Their attitude and interest are different. While the businessmen look forward to the returns on their investment, the blue colored want to be connected to their relatives and loved ones at home. The businessmen need a supportive environment for their investment. Others need regular interaction with government and mentoring. There should be a synergy in expertise, professionalism and technology etc of the Odisha Diaspora and the people of the home State for rebuilding Odisha.To bring out such synergy Mishra made the following suggestions:
i) A data base of Odia Diaspora has to be built which is difficult to do at the Embassy level alone. Various industries, departments, universities and educational institutions should come forward to conduct such activities.
Ii) Some public figures, opinion makers, people's representatives and authorities like Senators, Governors of the respective countries should be invited to Odisha to make proper connectivity with the Odia Diaspora abroad.
Iii) Scholarly and effective articles, books and journals are to be published with global media coverage articulating the role of Odia Diaspora in rebuilding Odisha with a positive attitude.
v) Recently government of Odisha claimed 232 thousand crores of of rupees of committed investment from NRIs. Mishra doubted the credibility of such claim. Any initiative from government and non government agencies in attracting Odia Diaspora for investment should be realistic, truthful and practical.
v) The NRIs from Gujarat and Kerala are doing a great service to their home State by investing sizeable amount in real estate. Some villages are adopted by them. Each of these States have a separate department for their Diaspora. In contrast, most of the capable Odisha Diaspora spend their money in their respective country of living instead of investing in Odisha due to lack of interest or information or proper coordination/interaction. Odisha Government should, therefore, establish a separate department or a cell or single window facilitating centers for Odisha Diaspora.
vi) There are several overseas Odia Associations like OSA (Odisha Society of America) who periodically meet in their respective counties. Primarily such conventions are held for socializing with each other. But some of them are also eager to contribute or do something for the development of Odisha. Due to lack of regular interaction with Government of Odisha their approach on rebuilding Odisha often seems superfluous. They should be guided by pegging appropriate priority projects for development.
vii) At present dances like Odishi and Chow are being promoted abroad. Similar promotion has to be extended to other intangible cultural heritage of Odisha like Odishi music, theatre, folk and tribal music , dances and paintings.
4.In conclusion Malay Mishra stated that there is huge potential in Odisha Diaspras in playing a significant role in rebuilding Odisha. What is needed is positive attitude to serve their home State. This is possible through regular interaction at individual and group level and proactive policies and programmeas of governent of Odisha relating to Odisha Diaspora. The speech of Malay Mishra was followed by floor participation.
Major General B.K.Mahapatra opined that the periodical conventions organized by the NRIs in their respective countries of their living is very useful as it promotes mutual bonding and understanding. He asked about the possibility of students being sponsored by Odisha Diasporas to study abroad. Malay Mishra replied that such sponsorship ordinarily avoided as such students after completing their study prefer to stay there instead of coming back to Odisha. However, the NRIs can be persuaded to sponsor short refresher courses. Youth or family exchange programmes can also be encouraged.
Dillip Bishoi expressed that there may not be any scope for doubting the data published by the State without any evidence to the contrary. Hara Prasanna Das, citing some examples, observed that there is no congenial environment in Odisha in making the investments of NRIs fruitful. In any initiative, be it publishing books or in health sector or higher education or engineering, the end result is dismal. The bonding of Odia Diaspora with their own State is degenerating. B. Das, however, gave a positive note acknowledging the ups and down in the NRI initiatives.
Former diplomat Abasara Beuria opined that some of the projects established by NRIs failed not because they lacked interest but their culture of entrepreneurship. He cited Kalinga Hospital as an example. Vivek Pattanayak stated that some NRIs do invest in Odisha. At least some of them invest in stock market. The prospect of NRIs playing a significant role in rebuilding is not that bleak. It is not that bright either. The truth is in between. Summing up , Major General B.K.Mahapatra recognized the role of Odisha Diasporas setting a trend for rebuilding the state in spite of some failures. Their initiative needs to be carried forward. Let everybody think hard and identify some projects and invite the NRIs to come and take it further.