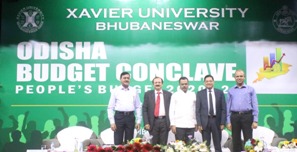 Bhubaneswar: The Xavier Institute of Management, Bhubaneswar (XIMB) in collaboration with the government of Odisha organized the pilot edition of Odisha Budget Conclave, the People's Budget 2020-21 on Saturday.
Former IA & AS officer and Rajya Sabha member Dr. Amar Patnaik, former chief secretary and chairman of NABFINS Jugal Kishore Mohapatra (IAS (Retd.), Chairman, NABFINS), Odisha Electricity Regulatory Commission Upendra Nath Behera and principal secretary finance Ashok K.K. Meena addressed the Conclave.
The conclave was a panel discussion which was moderated by Professor Subha Kant Padhi.
Ashok K.K. Meena introduced the audience to the provisions of the budget. He also shed some light on the new aspects of the budget that incorporated structural and formative changes. He spoke about the separate agriculture budget as well.
Dr. Amar Patnaik said about the sectored structure of the budget which included the nutrition budget, the agriculture budget and how this provision should aim at achieving synergy between the central government and the state government's agricultural department to reap maximum benefits for the farmers.
Jugal Kishore Mohapatra illuminated the audience on how the budget must be evaluated to best fit the context which must encompass the quality of resource mobilization, expenditure allocation, fiscal management and liability of estimate. He said the budget must be credible and absolutely.
Upendra Nath Behera expressed his views about the robustness of the budget wherein with the aid of minimum support price and subsidy the problem of poverty and hunger could be tackled.