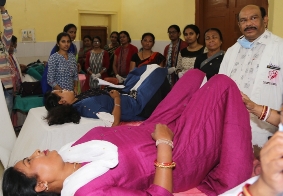 Cuttack: The Odisha Police organised a cancer detection camp for police women and the women family members at the police hospital on the occasion of International Women's Day, here on Sunday.
Police DGP Abhay and his wife Rashmi Abhay inaugurated the camp. Internationally reputed gynecologist Dr. Purna Chandra Mohapatra, SCB medical college, HoD, gynecology, Dr. Tushar Kar, Archarya Harihara Cancer & Research Institute professor Dr. Sushil Giri and associate professor Dr. Janmejaya Mohapatra and Dr. Bhagyalaxmi Nayak conducted the camp. Over 100 women were screened in the camp for detection of breast and uterus cancer.
The Odisha police has organised 37 such health camps across the State in association with All India Gynecologists Association. Over 5000 police women and women family members of police men attended the camps.